Legend Reborn: McLaren 650S Can-Am Will Again Rule the Track!

Back in the '60s and 70's McLaren established itself as a leading force in one of the most extreme types of races, indeed the Cam-Am with winning five consecutive championships between 1967 and 1971. Impressive, right? And now, in honor of the 50th anniversary of the 1966 season, McLaren Special Operations (MSO) created a special lineup of 650s Can-Am models. The sweetie will be available for purchase in the Spring of 2016, exactly 50 years from the first race at Mont Tremblant, Canada. And being fully dedicated to the anniversary, the McLaren team will produce only 50 units.

In fact, the Can-Am series, or more precisely, the Canadian-American Challenge Cup series was a fierce battle around the most iconic circuits in North America and Canada. These races attracted the best drivers and even Graham Hill, John Surtees, Jackie Stewart and Bruce McLaren participated in the events.
SEE ALSO: McLaren 650S Coupe - Official Images And Details Released
In fact, key to the success of the Can-Am racers was the use of advanced technologies and components. The engineering team used mainly lightweight aluminum and mallite, along with carbon-fiber components for the MonoCell chassis. Furthermore, carbon material was also used for the bonnet, Airbrake, front splitter, rear bumper centre, door blades and more. MSO has also created and special lightweight forged alloy wheels, inspired by the 1960's race era. The vehicles also include carbon-fiber louvered front wings and fresh quad-exit polished stainless steel exhaust system. Sweet, huh?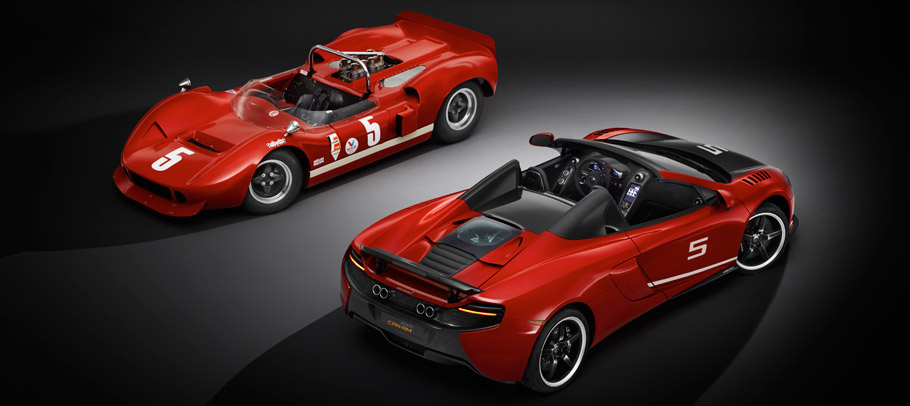 And just like the original 650S Spider, the new-old machine is geared with the award-winning 3.8-liter twin-turbo V8 engine that produces a total of 641 hp (471 kW) and 678 Nm (500 lb-ft) of torque. This combination takes the vehicle from 0 to 100 km/h (62 mph) for mere three seconds and offers a top speed of 329 km/h (204 mph).
And when it comes to exterior colors, McLaren knows how it's done. The launch color is a Mars Red, inspired by the M1B, raced by Bruce McLaren and Chris Amon in the debut season. The second color is a Papaya Spark which gives that contemporary appearance and the last one is Onyx Black which is similar to the base color used by many of McLaren's customers in later seasons.
Source: McLaren