Meet the One and Only McLaren 650S Spider Al Sahara 79 by MSO

This is McLaren 650S Spider Al Sahara 79 by MSO and it is unique. Since there is no doubt about that let me tell you more. The car has debuted today at the Dubai International Motor Show as an exclusive to Middle East MSO project. The special model was accompanied by the 570S Coupé and a custom McLaren P1 at the event.
Why 650S Spider Al Sahara 79 is One-Off?
First, it has been developed by McLaren Special Operations. If you don't know already, this is McLaren's division responsible for bespoke craftsmanship. Secondly, the car will be available exclusively for Middle East customers. Third, it is dressed in a uniquely formulated paint scheme and carries bespoke specification.
SEE ALSO: McLaren Starts Training Program In Order Drivers Tame the P1 GTR Beast
'Al Sahara', which literally means 'desert' in Arabic, was the inspiration for the pearlescent white gold paintwork of the car. The paint finish includes a subtle shimmer, inspired by the golden sands. And exactly this shimmer has been achieved through the addition of 24 carat gold particles. By the way, the precious metal has an atomic number of 79. Now you get the whole picture, don't you?
Exterior & Interior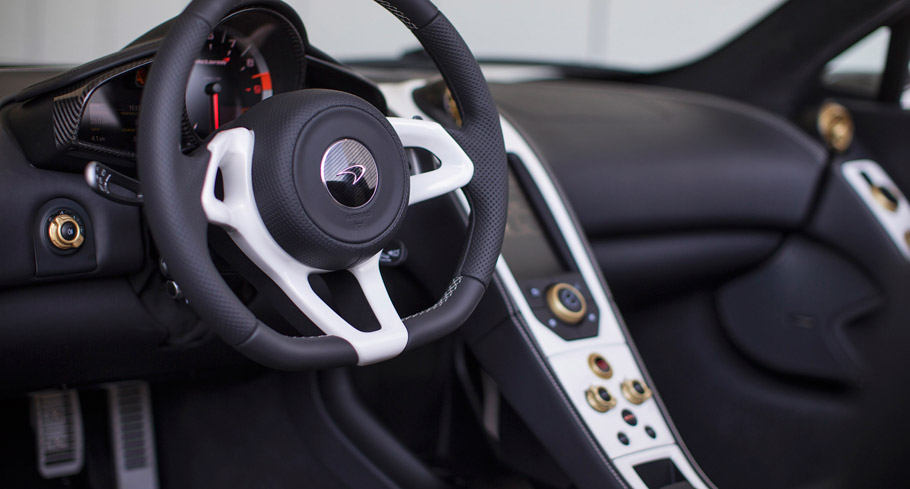 Except for the one-off paint scheme, other really cool exterior features here are the retractable hard top and the gloss black lightweight forged alloy wheels. In addition, carbon fibre has been used for the side intakes, front splitter and rear diffuser as well as the MSO-branded Side Blades.
Inside, the cabin is wrapped in black and Almond White leather upholstery contrasted with the appropriate stitching. The Al Sahara 79 paint scheme can be seen on the steering wheel, centre console and door panels as well as around the heating and ventilation controls. At last, a dark golden finish has been utilized for the switchgear and heating vents.
Power & Torque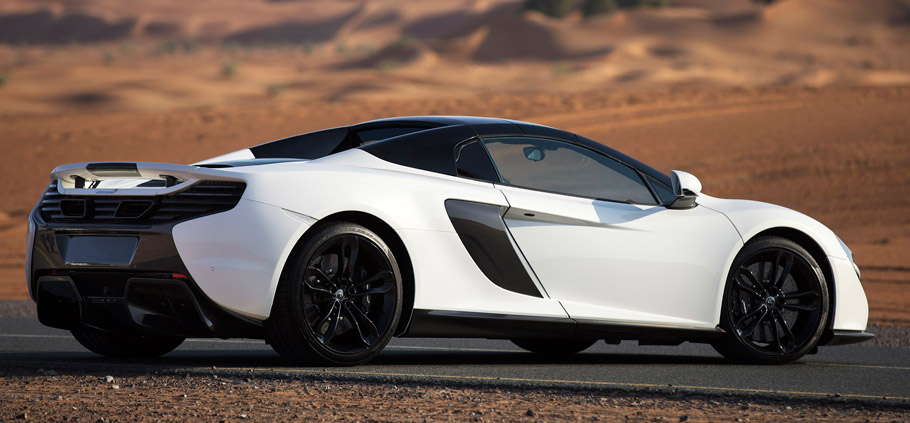 Just like the 650S Coupe and 650S Spider, the Al Sahara 79 is powered by the mid-mounted 3.8-litre twin turbo V8 engine. If you can't recall the figures, the unit produces 650S PS (641bhp) at 7,250rpm and 678Nm (500lb-ft) of torque. 0-100 km/h is covered therefore in 3.0 seconds onto the way of reaching the top speed of 204 mph (329km/h). At the same time the car still manages to achieve 24.2mpg (EU combined) cycle and CO2 emissions of 275g/km.
Asking about the price? McLaren said that the 650S Spider Al Sahara 79 by MSO has a retail price of 1,456,308 AED.
Source: McLaren