Bespoke McLaren MSO 650S Spider Concept Debuts At Goodwood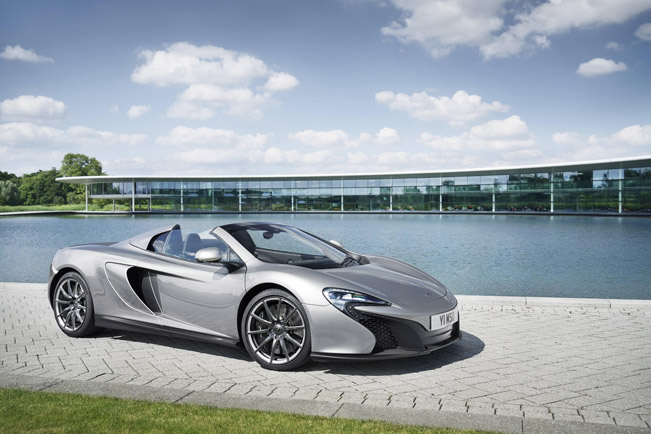 McLaren MSO 650S Spider Concept which has been teased previously this month. If you are fan of the brand, then you will undoubtedly remember that MSO 650S Coupe has already been revealed in China in April. Both models will enter a production, which will not exceed 50 examples. As mentioned previously this month the production Spider will make its debut at Goodwood in the Supercar Paddock. It will also make a run though the famous Hill.
MSO 650S Spirder has many similarities with the Coupe. The exterior is fitted abundantly with number of carbon fibre styling upgrades with a satin finish. For instance, the extended MSO Side Blades are all carbon, while the three-piece rear bumper includes a carbon fibre centre section, which sits above a restyled and aggressive rear diffuser.
The supercar will be offered in three paint finishes: Papaya Spark, Agrigan Black and Sarigan Quartz. The first one is a modern interpretation of the famous McLaren Orange, while the Agrigan Black we have already seen in the MSO 650S Coupe. It is a stylish metallic black with a deep ruby red metallic flake. A new color is the Sarigan Quartz which is vibrant metallic silver with a subtle golden infusion, and it will be shown for the first time at Goodwood.
The final element of this exceptional exterior feature Palladium coloured 10-spoke Super Lightweight alloy wheels. They have unique diamond cut effect to the inside edge of each spoke. It is interesting that these wheels save 4 kg over the standard design.
The interior of this McLaren is upholstered with carbon black leather and Alcantara. There is stylish satin lacquered carbon fibre detailing which can be seen on the driver and passenger zones. As a contrast to these elements, a gloss finish has been applied to the air vents and handling and powertrain switchgear on the Active Dynamics Panel. At last, a signature dedication plaque is installed on the MSO carbon fibre sill panel.
Every single example of MSO 650S will be delivered with a Frank Stephenson-signed sketch and a luxury MSO branded, leather weekend bag. The latter is handcrafted from stealth black carbon fibre leather and includes Alcantara lining.
The pricing of the McLaren MSO 650S begins at £252,500 for the Coupe, while the Spider is rated at £272,500. Those 50 that will purchase the car can expect their deliveries before the end of the year.
Source: McLaren