Latest Generation McLaren 650S GT3 Premiered At Goodwood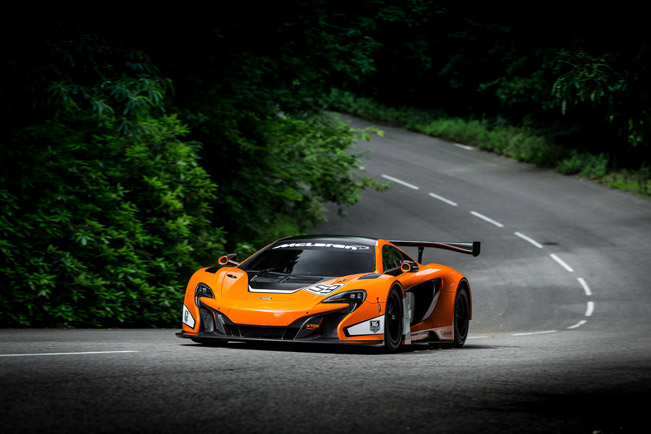 McLaren 650S GT3 is what we have been all waiting for. In the grounds of the famous Goodwood Estate, McLaren GT confirmed the first details of the new model next to its full-reveal. It is the company's latest generation track-focused racer that will contest GT3 championships across the world, starting from next year's season. The car was built on the 12C GT3 as well as 650S, has menacing and purposeful-look. The new GT3 uses 650S' lightweight carbon fibre MonoCell chassis. In addition, the GT3 iteration has been honed utilizing CFD technology and the latest in automotive and motorsport simulation to offer improved aerodynamics and levels of cooling.
At the front, we can see aggressive splitter and larger air intakes. On the flanks, the lightweight carbon fibre bodywork wraps around reprofiled air intakes. They offer Additional optimized cooling. The fixed carbon fibre rear wing works in tandem with the large carbon fibre splitter to complete the management of air.
Furthermore, the 650S GT3 also uses updated suspension geometry, wider track and refinement to its overall setup. Inside the cockpit, the 650S GT3 provides enhances levels of safety. The protection is ensured by the carbon fibre MonoCell chassis and the addition of an FIA-approved rollcage with increased leg and headroom.
650S GT3 is fitted with a bespoke motorsport digital dash display. It is positioned right behind the steering wheel and was inspired by the wheel design seen in the McLaren Mercedes Formula 1 car. The centre console is also inspired by the latest 12C GT3 interior.
Furthermore, the race seat is fitted with a six-point race harness as standard. The seat is directly mounted to the chassis, and the steering wheel and motorsport pedalbox are then adjustable to bring them closer to the driver.
McLaren 650S GT3 is powered by the 3.8-litre McLaren V8 twin turbo 'M838T' engine, which is coupled to an all-new six-speed sequential motorsport transmission. It generated around 500 hp (368 kW). The gearbox oil cooler is now positioned into the larger side intakes, giving the rear of the car a cleaner and more aerodynamic flow.
The racer utilizes race-tuned suspension system with a 52mm wider track in comparison to the 12C GT3. The larger front suspension also includes larger diameter racing tyres. This provides improved levels of front-end grip and steering feel on turn-in.
The car runs on forged aluminium wheels in the size of 12.5" x 18" and 13" x 18" for the front and rear, respectively. Behind them is the newly-developed braking system with monoblock six-piston callipers on the front, and four-piston on the rear, with ventilated discs (380 x 35mm front / 355 x 32mm rear).
McLaren plans to produce around 15 examples of the 650S GT3. The price has been confirmed and it starts at £330,000.
McLaren 650S GT3 Technical Specifications:
Chassis/Body
McLaren carbon fibre MonoCell with aluminum front and rear sub frames
Bespoke lightweight carbon fibre/composite body panels
Left hand drive
FIA approved safety roll cage
Air-jacking system
Colour
Aerodynamics
Front splitter and dive planes
Rear wing - fully adjustable with gurney
Front and rear diffusers
Engine/Management
Race prepared 3.8L V8 twin turbo McLaren M838T
McLaren Electronics ECU incorporating turbo boost and transmission shift control
Transmission
Six-speed sequential motorsport transmission pneumatically actuated via steering wheel mounted paddles
Electrical System
Lightweight motorsport specification wiring and connectors
Electronic power management system
Membrane type switch panel
Auxiliary power supplies for fitment of team equipment (radio etc)
Data System
McLaren Electronics 'ATLAS' data system
Motorsport digital dash display
Front/Rear Suspension
Double wishbone adjustable for ride height, camber and toe
4-way adjustable dampers with coil over springs
Motorsport axles with single wheel retaining nut
Adjustable anti-roll bars
Forged aluminium wheels: Front 12.5" x 18", Rear 13" x 18"
Steering
Electro-hydraulic power assisted steering
Unique McLaren GT composite steering wheel incorporating key driver switch controls and map settings
Fuel System
Motorsport 'bag tank' system with 125L capacity
Motorsport 'quick-fill' system
Brake System
Monoblock calipers with ventilated discs:

Front – 6 piston caliper, 380Ø x 35mm disc
Rear – 4 piston caliper, 355Ø x 32mm disc
Bosch motorsport ABS

Adjustable brake bias
Cockpit
McLaren GT bespoke composite seat shell
Six-point racing harness
Motorsport pedal box – adjustable position
Lightweight carbon fibre dash with integrated driver display and switch panel
Motorsport fire extinguisher system
Source: McLaren