Carlex Design Interior for 2014 Mercedes-Benz S-Class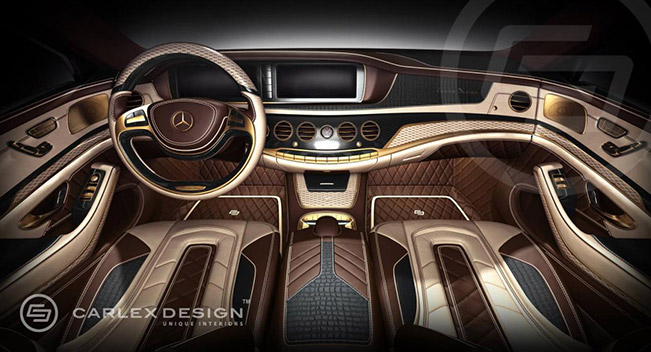 Carlex Design has published several pictures of their customization program for the new 2014 Mercedes-Benz S-Class (W222). The luxurious saloon is on the market for several months and is one of the best-selling in its segment. Mercedes-Benz is also offering S-Class Edition 1, but it can't even touch the impressive interior by Carlex Design.
The tuning company has surpassed almost everybody, when it comes to luxurious interiors. All metal elements of the Mercedes-Benz's flagship sedan are covered in pure 24K gold. Almost all parts are covered in gold including air vents, speaker covers, door handles, air vents, emblems and the steering wheel-mounted buttons. If you think that is too much, you have to check the full leather upholstery from crocodile skin. The seats, center console, both armrests as well as the door panels and the dashboard are covered in crocodile skin.
Carlex Design has turned the interior of the new S-Class in a place that can shelter princes and princesses without any concerns. Of course, the hardcore fans of Mercedes-Benz won't appreciate the flashy interior, but who cares, when you can sit on heated and vented seats with massage functions covered in crocodile skin.
2014 Mercedes-Benz S-Class is priced from £62,650 in the UK and $95,900. Carlex Design didn't reveal any pricing for the customization program, but it won't be cheap… at all!
Source: Carlex