2014 Smart ForTwo vs 2014 Mercedes-Benz S-Class - Crash Test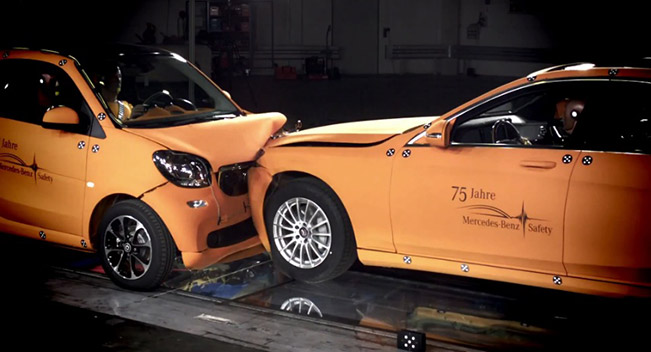 Here is a very interesting video featuring the new 2014 Smart ForTwo and the latest Mercedes-Benz S-Class. They are involved in a head-collision crash test proving that the small car, which is half of the weight of the big saloon is just as safe as the S-Class.
2014 Smart ForTwo is even more safe than the legal requirements. In some points in terms of safety, the small city car exceeds the Euro NCAP regulations. This was demonstrated by a recent in-house offset crash against a Mercedes-Benz S-Class. The impact speed is 50 km/h with 50 % overlap and the Smart offers its two passengers an intact occupant space and excellent chances of survival.
After all, the new Smart ForTwo has undergone the same development programme as, for example, the new Mercedes-Benz S-Class. Daimler's 75 years of safety expertise and smart's 21 years of expertise in building small cars have gone into the safety concept of the new smart generation.
You can see, how the main frame of the 2014 Smart ForTwo is virtually intact and the doors can be opened without additional devices used in heavily crashed vehicles.
Of course, the new Smart doesn't have so much crumple zones as the 2014 Mercedes-Benz S-Class Sedan, but still offers impressive passenger protection.
Source: Mercedes-Benz