2014 Mercedes-Benz S-Class - UK Price £62,650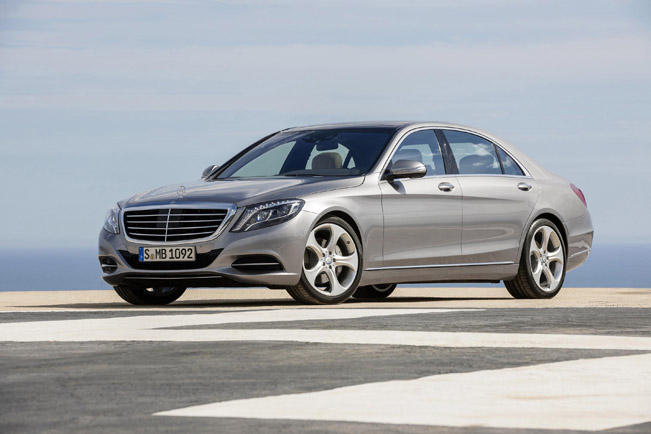 Mercedes-Benz UK has announced the pricing of the all-new 2014 S-Class. The super-luxurious saloon starts from £62,650 OTR for the entry level model – S 350 BlueTEC SE. The price can go up to £88,130 for the top-of-range S 500 L AMG. There are also rumors that the S-Class Pullman will replace Maybach and the pricing will start from more than £170,000.
Additional new equipment for the S-Class includes Magic Vision Control, the innovative wash/wipe system that applies washer fluid directly in front of the wiper blades to minimise waste and obstruction to the driver, enhanced AirMATIC full air suspension system with continuously adaptive damping control delivering a composed ride while retaining the ability to lower at speed (by 10 mm at 70 mph and a further 10 mm at over 100 mph) or rise by 30mm should it be required during low speed manoeuvres, and COMAND Online NTG 5 – the latest generation of telematics – all as standard.
The Magic Body Control suspension system debuts on the new S-Class – an option on the S 500 (£4,340). Linked to the new Road Surface Scan system, Magic Body Control uses a stereo camera located on the top edge of the windscreen to scan the road up to 15-metres ahead, allowing it to model a precise image of the road surface.
Three different seat packages are available in the rear – ranging from three seats finished in high quality leather to two individual seats complete with the ability seats to recline to an angle of 43.5 degrees. Furthermore, the seats can, if desired, simulate a hot stone massage for even greater comfort and the armrests can be heated.
The options list also include Burmester 1,540 WATT 3D surround sound system with 24 speakers for £6,430 and Air-Balance Package for an additional £360.
Technical Specifications
| | | | | | |
| --- | --- | --- | --- | --- | --- |
| | | S 350 BlueTEC | S 350 BlueTEC L | S 400 Hybrid L | S 500 L |
| Capacity | cc | 2,987 | 2,987 | 3,498 | 4,663 |
| Arrangement/cylinders/valves | | V/6/24 | V/6/24 | V/6/24 | V/8/32 |
| Power | hp at rpm | 258/3,600 | 258/3,600 | 306 + 27/6,500 | 455/5, 250-5,500 |
| Torque | Nm at rpm | 620/1, 600-2,400 | 620/1, 600-2,400 | 370/3, 500-5,250 | 700/1, 800-3,500 |
| Acceleration 0-62 mph | sec | 6.8 | 6.8 | 6.8 | 4.8 |
| Top speed (electronically limited) | mph | 155 | 155 | 155 | 155 |
| Kerb weight | kg | 1,955 | 1,975 | 1,945 | 2,015 |
| Perm. gross vehicle weight | kg | 2,655 | 2,690 | 2,630 | 2,730 |
| Boot capacity | l | 510 | 510 | 510 | 530 |
| Turning circle | m | 11.9 | 12.3 | 12.3 | 12.3 |
| Combined fuel consumption | mpg | 51.4 | 50.4 | 44.8 | 31.7 |
| CO2 18" alloy wheels | g/km | 146 | 148 | 147 | - |
| CO2 19" alloy wheels | g/km | 151 | 154 | 153 | - |
| CO2 19" AMG alloy wheels | g/km | 151 | 154 | 153 | 207 |
| CO2 20" AMG alloy wheels | g/km | 155 | 158 | 159 | 213 |
Source: Mercedes-Benz