This Rolls-Royce Phantom is Inspired by Sunrise

Rolls-Royce has published at their official Facebook page unique Phantom, which has a paint finish inspired by sunrise. As a matter of fact, if you haven't witnessed a sunrise recently, you might think that this is another Barbie car. However, it just happened that I have experienced one of the most inspiring pink-imbued sunrises ever.
Basically you have to imagine how versatile the sun could make the sky and then you will get the idea behind this unique paint finish. By the way, the car is based on an extended wheelbase version of the Phantom and features some pain-striking design elements that we also have to look at.
SEE ALSO: 2016 Rolls-Royce Dawn Strives For Perfection. And it Reaches it.
First, the exterior finish of this Phantom has been taken to a new level. The paintwork has been designed to pick up the sun's rays throughout the day, producing a subtle yet striking sparkle. This means that the golden and pink tones in the paint shimmer in different hues depending on the position of the sun throughout the day or the artificial light source. One experiences various colors throughout the day, tracking the course and intensity of the sun. How cool is that?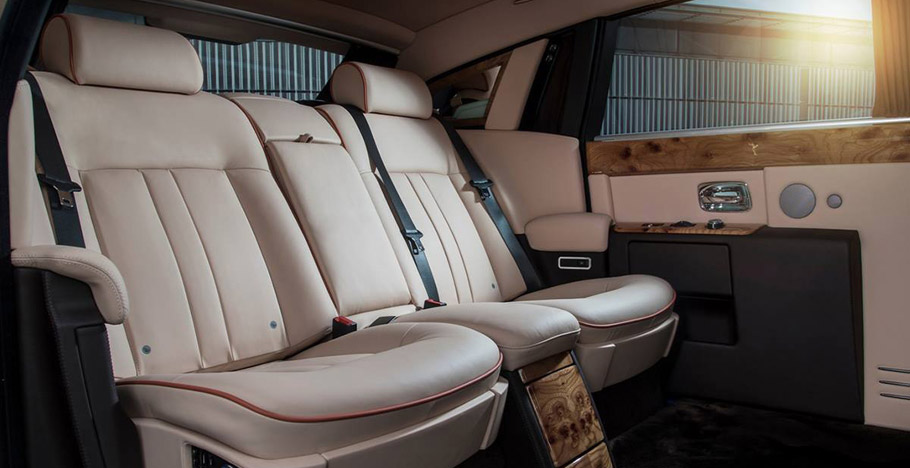 How about the interior? Well, it is as exclusive as the exterior and features nothing less than exceptional craftsmanship. First, the glowing interior includes Sunrise leather upholstery accentuated by Dark Spice accents. The occupants immediately sink into luxurious leather seating, as they watch the last rays of sunlight. In addition, the wood interior also adds a golden inlaid Spirit of Ecstasy.
In terms of power nothing has been changed. Just like the other Phantoms this one is driven by the V12 engine which produces 453 horsepower (338 kW) and 719 Nm (531 lb-ft) of maximum torque. This makes it enough for the car to sprint from 0 to 60 mph (96 km/h) in 5.6 seconds on its way to a top speed of 150 mph (241 km/h).
Source: Rolls-Royce via Facebook