Stunning Phantom Drophead Coupe is Beverly Hills-inspired masterpiece 

Rolls-Royce has shown it at PebbleBeach
Did you remember the one-colored Dawn by Rolls-Royce, which was revealed last week? If yes, then you are probably a fan of the luxury brand, and you'll be keen on another interesting project. This one-off Bespoke Phantom Drophead Coupé Beverly Hills Edition (kind of long name, I know) has been previewed this weekend at the Pebble Beach Concours d'Elegance.
As you can see it features as vivid as the sun color paint scheme inside and out. The unique shade is called Orange Metallic and is integrated in the iconic for Rolls-Royce bi-tone design philosophy. The color is also featured on the wheel-centers, providing even a catching appearance.
SEE ALSO: Imagine a Bespoke Rolls-Royce Dawn Cabriolet in Blue! You are welcome!
This romantic open-top motoring is continued on the inside, where only the finest of the natural materials have been used. Precisely, the hand-stitched Mandarin leather contrasts perfectly the polished Piano Black veneers, creating a rather bold display of Rolls-Royce luxury. The same theme is featured for the floor mats, too.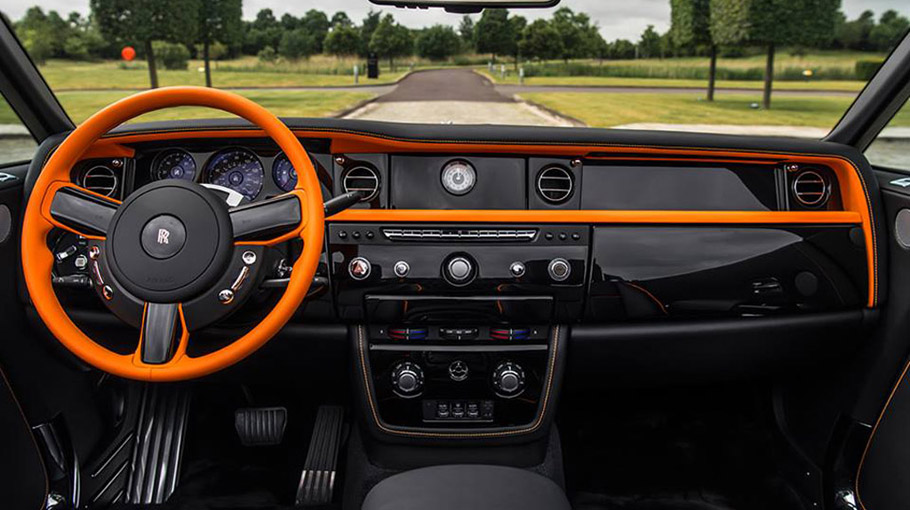 This is a nice way for Rolls-Royce to say farewell to the entire Phantom range, because it will be discontinued in its current form by the end of this year. But don't worry because the next-generation is scheduled for appearance in 2018.
Phantom Drophead Coupe Beverly Hills Edition has been commissioned for Rolls-Royce Motor Cars Beverly Hills. And it is an utmost representation of the iconic Southern Californian lifestyle.
Source: Rolls-Royce