Rolls-Royce celebrates the Drophead Coupé and Phantom Coupé with Zenith Collection as they leave the stage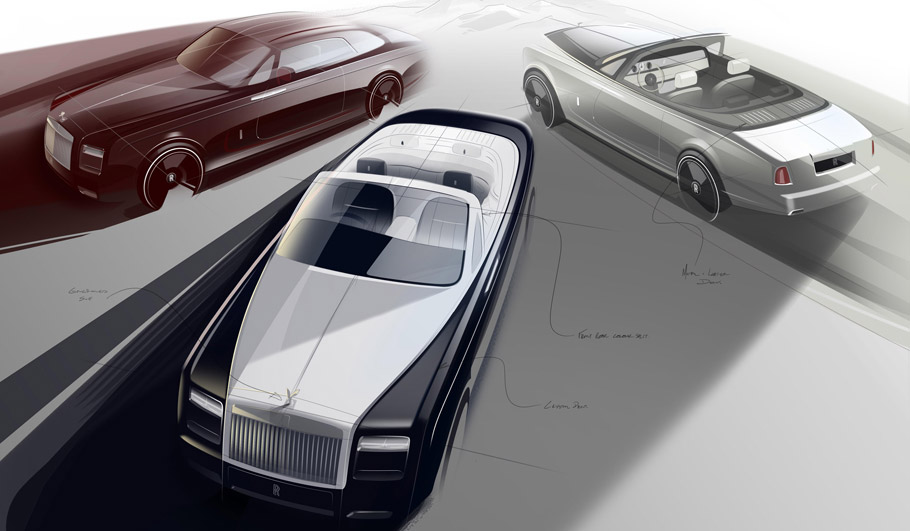 Rolls-Royce Phantom Zenith Collection celebrates two of the end of the production of most exclusive and celebrated luxury vehicles: the Phantom Drophead Coupé and the Phantom Coupé. The bespoke collection has been conceived with the aim to create the best examples ever of those two models, thus making them collectors' pieces. Only 50 units will be produced and of course, they have already been commissioned.
The Bespoke design team at Rolls-Royce has considered every possible detail to create the perfect examples. Literally. An instance is how the split-tailgate has been improved with the addition of an engineered companion to a perfect touring day's picnic. Precisely, the picture below, shows how a glass shelf, housed within the rear section of the tailgate can be effortlessly used in terms of serving Champagne. There is no question whether the team added a champagne fridge. It is actually large enough to hold two standard bottles and eight Rolls-Royce glasses.
SEE ALSO: Rolls-Royce Nautical Wraith is the Best Luxurious Car You'll See Today
Next under the spotlight is the Rolls-Royce Picnic Hampe, which is a unique accessory. On opening the doors, occupants are greeted with an intricately executed nod to the history of these remarkable motor cars. These include laser etching to the armrest cappings, showing locations of the global debut of the experimental version of each car.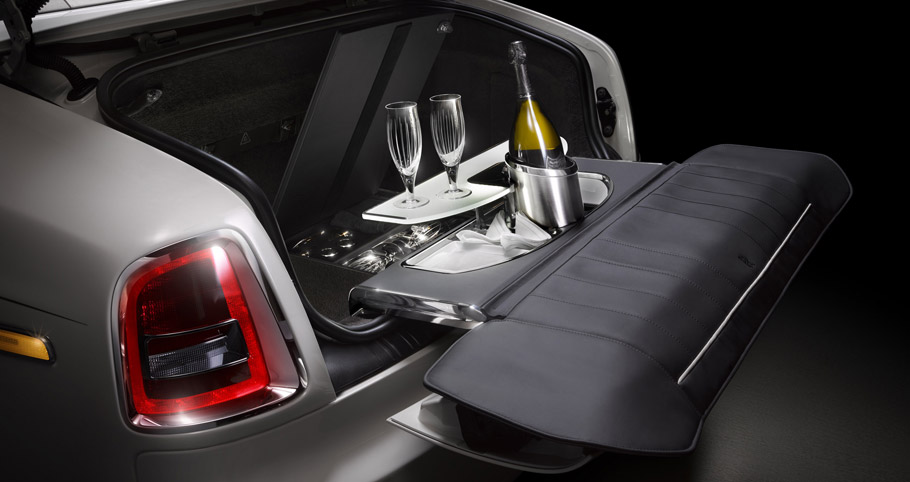 Everything is in the details. The central fascia drawer has been utilized to house a priceless unique identification number. Further grabbing the attention are the cupholders, machined from aluminium.
Note that at the front the speedometer has great design, featuring brushed steel. What is more the interior trim scheme uses light leather colour for the front seats and darker for the rear. At last, the Starlight Headliner has been given a subtle Bespoke treatment to reflect this.
The exterior makes emphasis on the contrast with the two exterior colors: the Madeira Red and Jubilee Silver Phantom Coupé. More defined contrast can be made via Midnight Blue and Artic White.
Rolls-Royce Phantom Drophead Coupé and Phantom Coupés are currently in the making. 2016 will be their final year of production, making a total of seven generations since the birth of the model. Still, if you are extremely fast, there might be a chance of commissioning one of the very last examples.
Source: Rolls-Royce