Rolls-Royce Puts Phantom In The Limelight

Rolls-Royce has released the latest Bespoke Phantom Collection called "Limelight". The name is inspired by the "limelight effect" which was discovered in the 1820s by Sir Goldsworthy Gurney and is now associated not only with the invention but also with fame. This effect has changed illumination in the theatres around the world, because it has been used to highlight leading actors on the stage. And this where the phrase "in the limelight" comes from.
To go into details, the car has been equipped with the so called "Phantom Suite". It comprises of one-off rear door panniers and luxury seating configuration. Therefore, inside the Phantom there is such an inviting atmosphere which suggests relaxing in the ultimate luxury.
In addition, the personalized rear door pannier has been designed according customer's taste. The Ladies' and Gentleman's panniers for instance are not only suited to best serve the gender preferences, but also to be personalized to suit one's possessions for a specific occasion.
There is even a standard configuration, Concealed Fragrance Holder, which is suitable for three individual fragrances in Ladies' pannier. On the other hand, the Gentlemen's pannier can hold watches. The designers have added also a special pocket that is perfect for credit cards, business cards, etc.
To ensure the optimum relaxing time in the rear, the designers have used the professional opinion of physicians in order to create the seat that invites the best seat position that relaxes the body most whilst in motion. As a result, Rolls-Royce now debuts the newly developed rear seat.
SEE ALSO: "And the World Stood Still" for the Most Powerful Rolls-Royce
What is so special about the seats? First, the seat back reclines the body by a recommended 27 degrees. This helps rest the head on the headrest cushion. Additionally, when the body is lowered down, there is a new calf rest which raises electrically by 68° to support the calf. At the same time, the foot rest pops out and raises the feet up to 30°.
Adding to the luxury feel are the Light contrast scheme in the interior as well as the Seashell with Navy Blue Contrast Leather and Seashell tone-on-tone stitching. On the other hand, the Dark contrast scheme uses the Navy Blue color with Seashell Contrast Leather and Navy tone-on-tone stitching.
The embroidery inside is complex and inspired by a diamond shape. It has been applied to the central seat flutes, door cards, rear console and Picnic Table backs. Two-veneer finish, piano Seashell applied to the door cappings and smoked chestnut rounds out the colour scheme of the interior.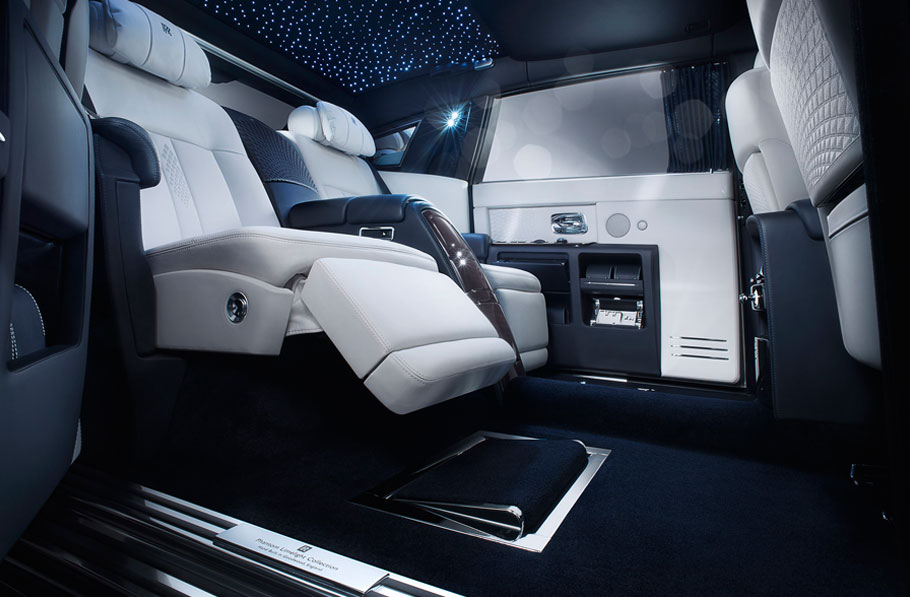 Regarding the exterior, the choice for paint finish is Gala Blue color. This Phantom runs on nine-spoke alloys and features a Seashell and Navy Blue hand-painted coachline with a diamond motif.
2015 Phantom Limelight Collection will be built in only 25 examples and will be distributed around the world.
Source: Rolls-Royce