Rolls-Royce Phantom Drophead Coupe Waterspeed Collection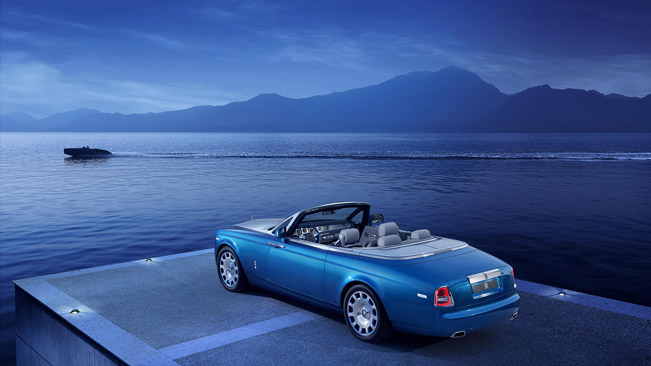 Rolls-Royce Phantom Drophead Coupé Waterspeed Collection will be previewed to selected public at an event. The model adds to the latest Bespoke Collection from Rolls-Royce Motor Cars. The event will take place at the site of the original Bluebird Motor Company, now the Bluebird Restaurant, on the King's Road, London today. After that the vehicle will be premiered at the Concorso d'Eleganza at Villa D'Este on the shores of one of Italy's famous Lake Como. Right there, it will be shown to the general public for the first time.
Waterspeed Collection Phantom Drophead Coupés include Bespoke design and engineering features. They were designed and built to make contemporary tribute to Campbell's famous craft. The vehicle is finished in a specially developed 'Maggiore Blue' exterior paint. It was inspired by Bluebird's famous colour scheme.
An interesting fact is that for the first time in company's history, the exterior finish extends to the engine, creating a visually homage to the power behind Campbell's records. The finish also can be seen applied on the fully-polished eleven-spoke wheels for the first time.
Furthermore, the exterior is completed with a hand-painted coachline that culminates in a Bluebird motif. To make the prefect harmony, Car's Maggiore Blue exterior finish is subtly echoed inside via accents on the dashboard. The interior includes Windchill Grey leather scheme, hand-engraved door armrest tunnel caps, Abachi wood used for several elements.
Another inspiration taken from Campbell's success is reflected onto the famous 'power reserve' dial. As the driver presses on, the dial moves backwards towards a yellow and blue zone, echoing Campbell's original K3 boat's 'going into the blue' at maximum engine revolutions.
In addition, direct tribute to the records is paid in the glovebox. There, one can see a hand-embroidered panel which expresses the records Campbell achieved at Lake Maggiore and Coniston Water. At last, the steering wheel is decided in two-tone for the very first time. It also includes Maggiore Blue accents that balance perfectly the traditional black leather used for the interior.
Source: Rolls-Royce