Renault Twizy ZE - £6 690
Renault will actually hit the market with the Twizy, which will be on display at the Barcelona Motor Show. The manufacturer will exhibit two versions powered by a 17HP motor: Urban and Technic. The price of Twizy will be £6 690 ORT.
The Technic trim level costs £7 400 and monthly battery lease cost for both versions will be £40 including VAT for a 36 month/4 800 miles per year agreement.
Customers can now pre-reserve their Twizy online at renault-ze.com and this requires a £20 deposit via a secure online payment module. The website is available in 38 countries and has already received more than five million visits, a figure which provides a dramatic illustration of the interest motorists are showing in the Renault Z.E. programme.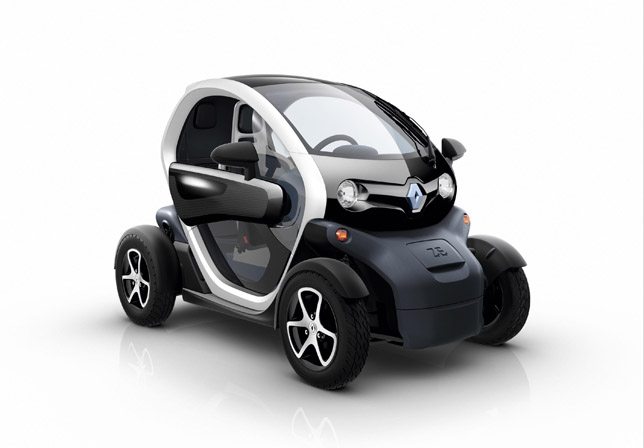 Twizy makes city motoring easier and safe:
Twizy gets around town faster than a traditional city car thanks to its unprecedented ultra-compact dimensions which also allows easy parking
It offers two occupants – sitting in tandem, one behind the other – greater safety compared with a two-wheeled vehicle, thanks to an extensive list of active and passive safety features
Twizy makes getting round town more enjoyable
It is more agile than a car, whilst its acceleration performance is comparable with that of a scooter
Twizy's electric motor accelerates smoothly and silently, while torque is immediately available
Its wraparound bodywork and side deflectors ensure enjoyable open-air motoring, protected from the elements
Accessories for the Twizy lifestyle
An all-purpose bag with a capacity of 50 litres
Additional protection against the weather
A Parrot audio kit including Bluetooth connectivity, plus a USB connector, a jack socket and an Apple connector
Rear parking sensors
A range of customisation accessories (coloured alloy wheels, decals) enabling owners to personalise their Twizy
Technical data
DIMENSIONS
Length
2,337mm
Width, not including door mirrors
1,191mm
Height
1,461mm
Wheelbase
1,684mm
Front/rear track
1,050mm/1,036mm
Front/rear overhang
292mm/345mm
Kerb weight
450kg, including battery (100kg)
Tyres
125x80 R13 (front) / 145x80 R13 (rear)
MOTOR
Type
Electric
Transmission
Direct, with reducer and forward/reverse inverter
Maximum peak power (EEC)
13kW (17hp)
Maximum torque (EEC)
57Nm
BATTERY
Type
Lithium-ion
Standard cycle range
62 miles
PERFORMANCE
Top speed
50 mph
Twizy Urban - standard equipment
Red or grey paintwork
'Urban' TEP water resistant upholstery
Coded electronic immobiliser
Lockable handbrake and steering column
Driver's airbag
4-point front seat-belt
3-point rear seat-belt
Anti-submarining front seat
Child seat compatible rear seat (under 15kg)
Regenerative braking system with 4 disc brakes
Audio pre-wiring
Cable and integrated charger for a 3.5 hours full charge (using a domestic electrical supply or all types of public charging spot)
Econometer, range and 'Eco driving' gauge
Two gloveboxes (one lockable)
31-litre lockable storage under rear seat
55-litre lockable rear storage achieved by turning rear seat over
Options
Metallic paint - black or white
Scissors doors with translucent lower half
Transparent roof
Twizy Technic adds:
'Carbon fibre' graphics
'Diamond black' alloy wheels
Metallic paint - black or white
'Technic' TEP water resistant upholstery with driver's seat in white
Options
Scissors doors with translucent lower half
Transparent roof
Source: Renault