2014 Range Rover Sport Revealed In New York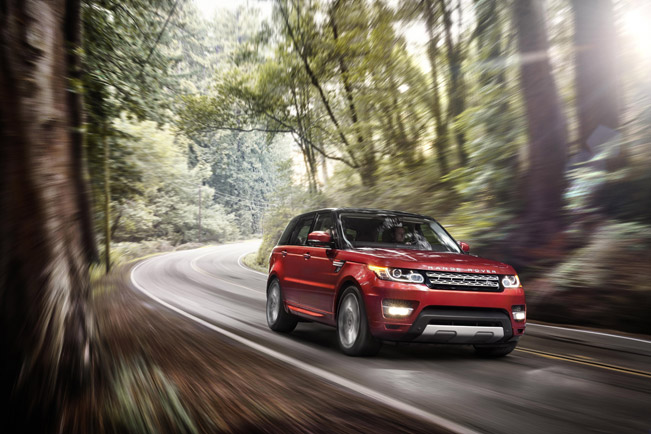 2014 Range Rover Sport has just been revealed on the streets of New York today. The ultimate premium sports SUV is the fastest, most agile and responsive Land Rover ever built in company's history.
The new Range Rover Sport features brands best-ever on-road dynamics combined with class-leading all-terrain capability. The model exudes assertive and muscular exterior, and has more luxurious interior and the flexibility provided by the option of occasional 5+2 seating.
In addition, through lightweight suspension design and innovative dynamic chassis technologies this model is lighter with 420 kg compared to the previous generation. The result is better performance, agility mixed with exceptional comfort, energetic driving experience and CO2 emissions reduced to 194g/km.
The official world premiere pf the vehicle will happen at the New York International Auto Show after it has been teased twice two weeks ago. The bold and progressive exterior design now features improved driving performance.
Moreover, the vehicle has a sleek and contemporary appearance combined with improved utilization of space. To be more precise, the new Sport is just 62mm longer than its predecessor, yet at 4850mm, it is shorter than other 7-seater SUVs and most E segment sedans. Nevertheless, the longer wheelbase delivers greater room and comfortability.
Furthermore, this Range Rover model is offered with a choice of wheel designs ranging through 19-, 20-, 21- and 22-inches in diameter including the iconic "Viper's Nest". Fifth generation air suspension included here offers up to 115 mm of regular movement. On the other hand an automatic extension, triggered by sensors, and a manually-selected extension, both raise the Sport by 35mm, giving a total movement range of 185mm.
Another innovation that is to be found in the model is the electric power steering which results in a lighter, more direct steering feel. A choice of two full-time 4WD systems will be offered: the first one will offer two-speed transfer case with low-range option with a front-rear 50/50 percent default torque split, and 100 percent locking capability.
The other system is 18 kg lighter and includes a single-speed transfer case with a Torsen differential, which automatically distributes torque to the axle with most grip, working in conjunction with the traction control systems.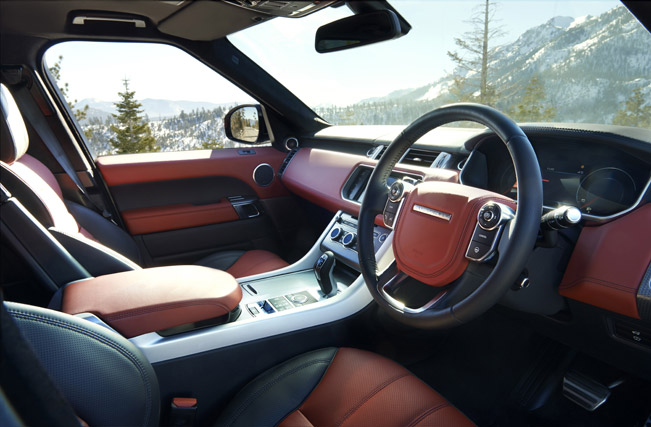 In terms of power, this emblematic Land Rover model will be offered with a choice of two powertrains from launch, one new Hybrid and two further diesel engines to follow.
The first engines are the supercharged 5.0-litre 510 PS (375 kW) V8 petrol engine and the 3.0-litre 292 PS (2015 kW) SDV6 diesel engine. In the future, the powertrain line-up will be expanded with the addition of the 3.0-litre 258 PS (190 kW) TDV6 and high performance 4.4-litre 339 PS (250 kW) SDV8 diesel engine. What is more, a high-efficiency diesel Hybrid model will be also available to order.
Across the range of the afore mentioned engines, the acceleration times for the 0-60 mph dash start from 5 seconds. All petrol and diesel engines in the new Range Rover Sport are mated with the advanced electronically controlled ZF 8HP70 eight-speed automatic gearbox.
To go even further into details, the all-new Range Rover Sport is the first vehicle in its segment to include an advanced all-aluminium body structure. This results in excellent agility and driving dynamics, but also offers significantly reduced weight and enhanced sustainability.
In terms of interior, the new Sport provides distinctive design cues, superior detailing and craftsmanship. It is unique blend of style and luxury with strong, elegant lines, top quality materials and an extra sporting character.
The sports feeling of the interior is additionally enhanced through the smaller diameter, thicker steering wheel, vertical gear shifter, higher centre console, configurable mood lighting and more generous seat bolsters. The Sports Command Driving Position (CDP) combines the supreme sense of confidence and control offered by the Range Rover, with a more sporting seating position similar to the Evoque.
What is more, the interior packaging improved thanks to the 24mm more knee room, and in addition, the occupants also benefit from the wider cabin. A neatly integrated third row, occasional 5+2 seating can be specified. These powered seats leave a flat floor with no loss of boot space and are split 50/50.
2014 Range Rover Sport has been engineered to embody the latest developments in technologies and safety features. Some of them are the Adaptive Dynamics featuring continuously variable dampers (CVD), Dynamic Response active lean control, a Dynamic Active Rear Locking Differential, and Torque Vectoring by Braking.
In the new model is also introduced a digital camera system with three driver assistance features: Lane Departure Warning, Traffic Sign Recognition and Automatic High Beam Assist. Another unique innovation on the Sport is the new Wade Sensing™ feature that provides 'depth' information when driving through water, made even more beneficial to the driver now that the Sport's maximum wading depth has increased by 150mm over the previous model to 850mm.
Source: Land Rover