2014 Range Rover Sport - The Official Pace Car At PPIHC [VIDEO]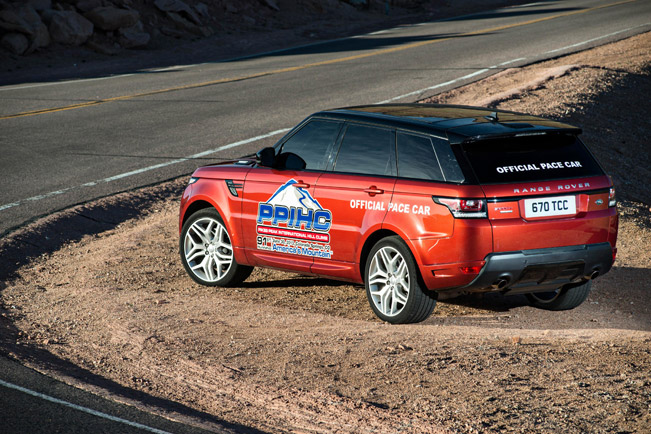 The exclusive 2014 Range Rover Sport is the official Pace Car for the 91st running of the Pikes Peak International Hill Climb (PPIHC). The race is familiar as the "Race To The Clouds" and it takes place annually at the Colorado Mountains in the USA. PPIHC is famous for the spectacular location which in addition has unforgiving nature with its 12.4-mile-long course lined by sheer drops down the mountainside.
This Land Rover model will be the course-opening car. To remind you, the vehicle achieved own record-setting run: a new best time up the hill for a standard SUV and additionally it broke the long standing record for any type of production-standard vehicle.
The 12.42-mile course goes up to 9 390 feet (2 860 m) and has 156 corners. The Rover Sport was able to conquer them in only 12 minutes and 35.61 seconds with an average speed and from a standing start of 59.17 mph (95.23 kph).
The new sport modification based on the highly-acclaimed Range Rover delivers the brands best-ever on-road dynamics combined with class-leading all-terrain capability. It now offers more assertive and muscular exterior as well as more luxurious interior which in addition feature the flexibility of an optional third row seating.
Moreover, for the construction of the 2014 Rover Sport has been utilized aluminium architecture thanks to which has been achieved a weight saving of more than 800 lbs. This SUV also exploits Land Rover's breakthrough lightweight suspension design and innovative dynamic chassis technologies.
The record-breaking vehicle was equipped with 510 PS 5.0-litre supercharged petrol V8 engine. The only thing that differentiated it from a production-standard car was the fitment of a roll cage and harness seatbelts, which were additionally added in order to meet racing safety requirements. Behind the wheel of the 2014 Range Rover Sport was Paul Dallenbach.
The special Pace Car, however, will be driven by motorsports competitor and official Gay Smith, who was the 1974 Rookie of the Year on Pikes Peak and has served on the event's Board of Directors for 20 years.
2013 PPIHC attracted 157 competitors, from which 70 are cars and 87 - motorcycles). The entry was headlined by World Rally Champion Sebastien Loeb. In addition, Land Rover released a new four-minute documentary film about the Range Rover Sport's record run at Pikes Peak, which happened in June. You can of course view it below.
Video Source: YouTube
Source: Land Rover