Opel Insignia ecoFLEX Sports Tourer
Green shoots continue to sprout on the Opel model line-up: Starting this fall, the especially environmentally friendly Insignia ecoFLEX will be available as a Sports Tourer. The elegant station wagon version of Europe's 2009 Car of the Year sips in the combined cycle just 5.3 liters of diesel per 100 km and emits only 139 g CO2/km.  (ecoFLEX sedan: 5.2 l/100 km, 136 g CO2/km). – while offering a load capacity of up to 1530 liters.
All Insignia ecoFLEX models combine economy with driving fun. The 2.0 CDTI engine with the Clean Tech System delivers 118 kW/160 hp and has maximum torque of 380 Nm. The Insignia ecoFLEX Sports Tourer accelerates to a top speed of 215 km/h – three km/h faster than the normal version – and sprints from zero to 100 km/h in 9.9 seconds.
The Opel Insignia ecoFLEX Sports Tourer can be ordered now, with prices starting at 28,690 euros (RRP incl. VAT) in Germany. It comes with a six-speed manual transmission, a longer final drive ratio, a range of aerodynamic optimizations and specially developed, 225/55 R 17" low-resistance Michelin tires. "The Insignia ecoFLEX is more than just a green car. It offers the same package of high driving performance, innovative technologies and comfort as the other Insignia models. And for this price, it has no serious competition  – this is true for both the Sports Tourer and the sedans," says Hans Demant, Managing Director, Adam Opel GmbH.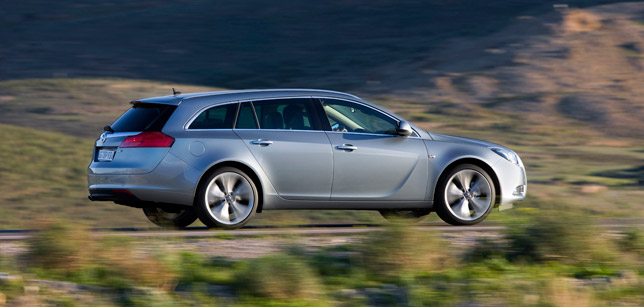 Just how parsimonious the new Opel Insignia ecoFLEX is, was highlighted at the sedans' press launch in June. European journalists driving the Insignia ecoFLEX for two weeks in the region south of Frankfurt confirmed that the official factory figure of 5.2 liters of diesel per 100 km is very realistic. On the first part of the test circuit, consisting mainly of country roads from the Frankfurt Airport to Heidelberg, most of the cars needed less than five liters of diesel. Some of the journalists really concentrated on their gas pedal behavior; one reporter from Croatia hit a record of 3.6 liters per 100 kilometers.