Opel Marks 150 Years of Existence
Opel is preparing to celebrate 150 years of business this year and to do it properly they are planning to release special "150 years Opel" edition of the Corsa, Meriva, Astra and Insignia line. The cars will come with additional equipment and styling that would normally cost much more as an option (one can save up to 2100 euros). An even more festive jubilee trim package - "150 years Opel" - will guarantee exclusivity and character.
The Corsa and Meriva editions both come with 16-inch alloy wheels and tinted, heat insulating Solar Protect glazing at the back. Other comfort tech that warms up the heart includes the heated steering wheel, cruise control and fog lights. The Corsa flashes chromed exhaust pipes regardless of the engine choice. The other three models can also come with the same exhaust system but they largely depend on the engine choice. The Astra gets 17-inch wheels, all of that equipment excluding the fog lights.
The top of the line Insignia rolls on 18 inch wheels, makes use of the same rear view window Solar Protect glazing seen in the other cars, a heated steering wheel, heated front seats, fog lights and a cleaning system for the head lights. Air-conditioning is automatic and the new Navi 900 Europa infotainment system gives the term "interactivity" a whole new meaning.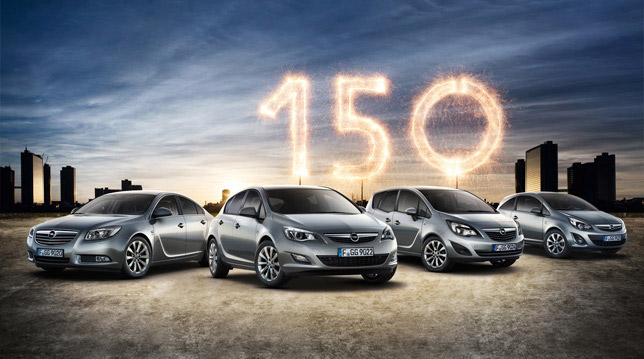 If people are oblivious to all of those bonuses, they can still recognize the anniversary editions by the "150 Adam Opel" emblem, the aluminum door step with "OPEL" engraved on it. The interior is coated with premium quality fabric and leather-like Morrocana material.
The jubilee trim package adds more glitter to an already glamorous product. The Corsa and Meriva both get an adjustable panoramic roof or sunroof abd separate air conditioning for both the driver and the front passenger. Corsas can further be personalized with the 'jubilee plus' option which gives a park assist system and 17- inch alloy wheels. The Astra gets a more premium upholstery treatment and so does the Insignia. The latter also gets a glazed panoramic roof, an electric sunroof and zonal air-conditioning.
Source: Opel