Irmscher Opel Astra Program is Ready for Launch

Irmscher is one of the tuning companies, which is hard to see very often. The first reason for this is that they are working only with Opel (Vauxhall) vehicles. The second: they are doing this for 47 years now, and this means that they are really good in it! Now, the modification specialists are absolutely ready with the launch of their new program for the latest Opel Astra.
Visually Better Astra
Irmscher improved the visual stance of the car with some simple changes that prove to be very effective. The biggest change is probably the grille. The original one was substituted with the classic Irmscher radiator grille that gives the Astra even more dynamic appearance for its front. Depending on customer's wish the radiator grille can be made from stainless steel or carbon fiber.
SEE ALSO: Irmscher Releases Special Edition Opel Insignia is3 Called 'Bandit' 
The more athletic stance has been further reinforced with the lowering, which in this case is 30mm. This ensures maximum traction especially when it comes to curves. The lower stance is also supported by the new wheel.  Irmscher is offering a wide variety of wheel designs, but the most exclusive ones are 19-inch of HighStar or Aerostar variety and are finished in diamond-polished black. 16-inch and 17-inch versions are also available.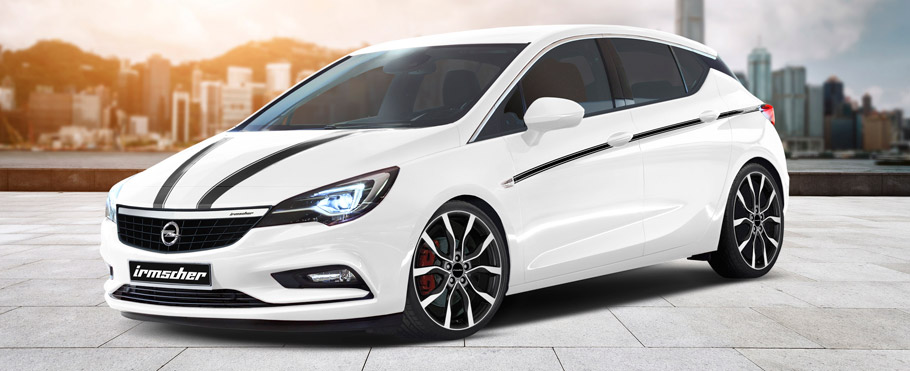 At last, the design of the Astra is highlighted by the foil strips added to accentuate vehicle's contours. The strips set is available in different colors.
More Power?
A power output increase is also available for both diesel and gasoline variants. The boost is actually currently being tested and will be introduced shortly. The performance gains are expected to be of up to 30 hp.
Source: Irmscher