Opel launches LPG Range - Pricing Announced!
Opel now offers five LPG (Liquefied Petroleum Gas) powered Corsa, Meriva, Astra station wagon and Zafira models with a wide performance range, expanding its line of environmentally friendly ecoFLEX models with alternative propulsion. The Opel LPG models can run on gasoline or LPG – the switch happens automatically, but can also be made by pressing a button. In addition to the standard gasoline tank, these models also feature an LPG tank. It is located either in the spare-wheel well (Corsa, Meriva, Astra station wagon) or under the vehicle floor (Zafira), ensuring storage space and load volume remain unchanged. Instead of the spare wheel, a tire repair set is on board for emergencies. Vehicle operating range can be significantly increased by using both tanks – for example, the LPG Astra station wagon can cover up to around 1,300 kilometers without stopping to refuel. And CO2 emissions during LPG operation are 10 to 13 percent lower than in gasoline mode.
Vehicles fitted with an LPG engine ex-works have advantages over retrofit solutions for the customer. The powertrain is specifically designed for operation with LPG, and special valves and valve-seat inserts are among the elements that ensure durability. Safety was a top priority during development of these models: the vehicles all went through extensive endurance tests, the LPG tank and all components were subjected to crash tests and meet all safety standards.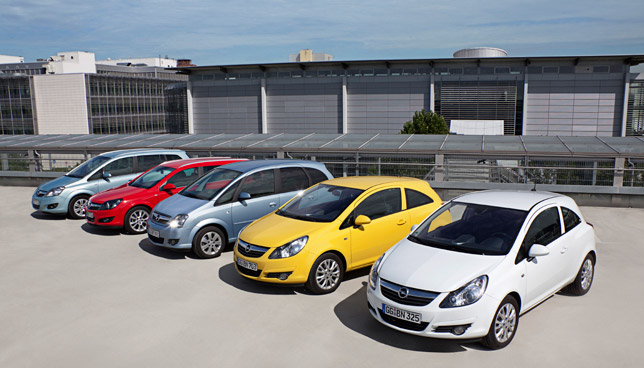 In addition, Opel offers a two-year manufacturer's warranty and the Opel service network is trained in the maintenance of these vehicles. Inspection intervals and costs are comparable to those of conventionally-powered models. And the moderate extra cost of 2,200 euros is substantially lower than for retrofit solutions. Filling up the Corsa 1.2 LPG ecoFLEX costs around 25 euros (42 liters at 0.59 euro). With average consumption of 8.1* liters LPG, this translates to fuel costs of just 4.72 euros for 100 kilometers.
LPG is the most popular alternative fuel in the world and is already used in over 13 million vehicles. In Europe, there are more than 25,500 filling stations that sell LPG, with over 5,000 of those in Germany. The largest markets for Opel's new LPG range are Italy, France and Germany.
The new Opel LPG models:
Corsa 1.2 LPG ecoFLEX with 57 kW/78* hp, 127* g/km CO2, from 14,130 euros
Corsa 1.4 LPG ecoFLEX with 64 kW/87* hp, 129* g/km CO2, from 14,780 euros
Meriva 1.4 LPG ecoFLEX with 64 kW/87* hp, 129* g/km CO2, from 17,300 euros
Astra Station Wagon 1.6 LPG ecoFLEX with 82 kW/108* hp, 142* g/km CO2, from 21,700 euros
Zafira 1.8 LPG ecoFLEX with 100 kW/136* hp, 159* g/km CO2, from 23,995 euros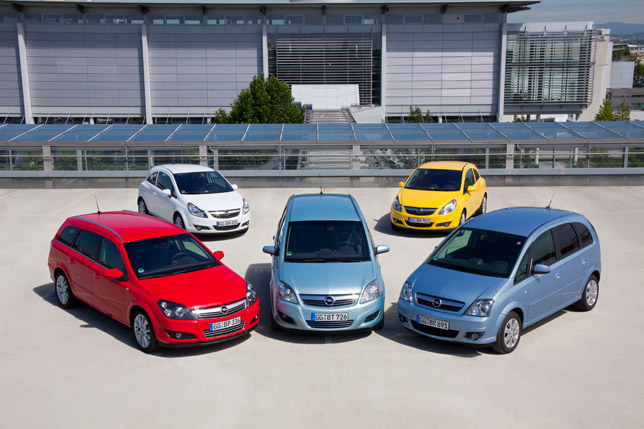 *Preliminary figures