Mercedes-Benz S-Class Pullman [leak images]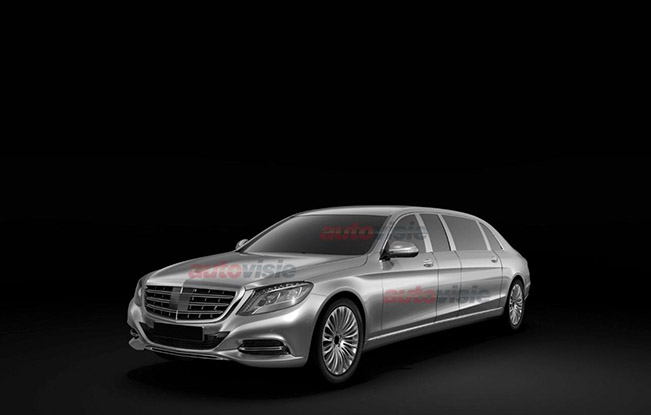 Telegraaf has published several leak images of the all-new Mercedes-Benz S-Class Pullman. The super-luxurious limousine will be the top-of-range model and will obviously substitute the famous Maybach models. The model dates from February 2013, when the German manufacturer has registered the drawings in the United States Patent and Trademark Office.
The Pullman model is practically a stretched S-Class with an overall length of whopping 6.4 meters (252"), which is longer than the large Maybach 62 (6.2 meters). The new Mercedes-Benz limousine will have a 2+2+2 seating arrangement with the four rear seats facing each other. They will be separated from the front ones by a privacy glass.
Of course, an armored version is also planned. It will carry presidents and prime-ministers as well as wealthy businessmen. The armored Pullman will be at least 5,300 kg (11,684 lbs). As you may suggest, the upcoming armored Mercedes-Benz S-Class Pullman will have a price tag of $1,270,000.
The all-new S-Class Pullman will be introduced sometime in 2015. Mercedes-Benz is also planning an extra-long wheelbase in the face of S-Class Maybach, but this is not official. Other interesting model which can face production is an S-Class Cabriolet based on the recently unveiled S-Class Coupe.
Stay tuned for more!