Mercedes-Benz S-Class Coupe - Curve Control System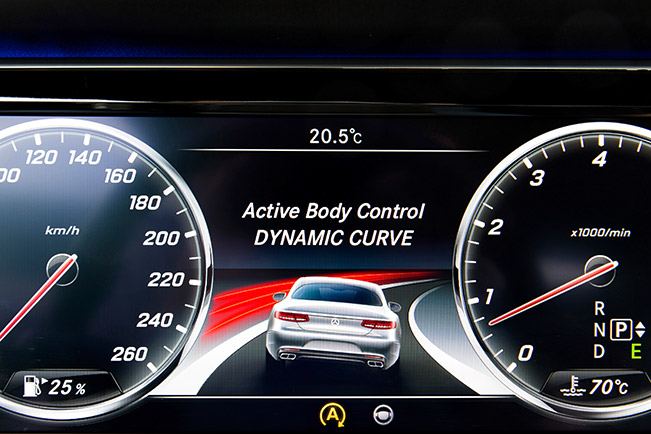 Mercedes-Benz has revealed more details about their new Curve Control System on the all-new S-Class Coupe. This driving experience becomes even more exclusive with the curve tilting function, a world first for series production cars: the vehicle leans into bends in a similar way to motorcyclists or skiers.
Curve Control System allows the vehicle to incline into the automatically and continuously in fractions of a second – depending on the bend radius and vehicle speed. The subjectively perceived effect is even greater, as the vehicle would normally lean outwards. This happens, when the base points of the steel springs integrated into the ABC suspension struts are raised by plunger cyclinders on one side of the vehicle, and lowered on the other, depending on the bend being negotiated.
This innovative system recognises bends with the help of the stereo camera behind the windscreen, which registers the curve in the road surface up to 15 metres ahead, and using an additional lateral acceleration sensor in the ABC suspension. The curve inclination function can be selected using the three-stage ABC switch, and in "Curve" mode is active in a speed range of 15 to 180 km/h. The other selectable modes are "Comfort" (Magic Body Control with Road Surface Scan) and "Sport".
The new function is available in combination with the Magic Body Control suspension system for the rear-wheel drive models, which can be ordered from 14 July. In combination with 4MATIC all-wheel drive, the S-Class Coupe features the full Airmatic air suspension system with the adaptive damping system ADS Plus, in a version with a sporty setup in keeping with the character of the vehicle.
Source: Mercedes-Benz