HOT: Vilner Enhances The Interior Of Mercedes-Benz SL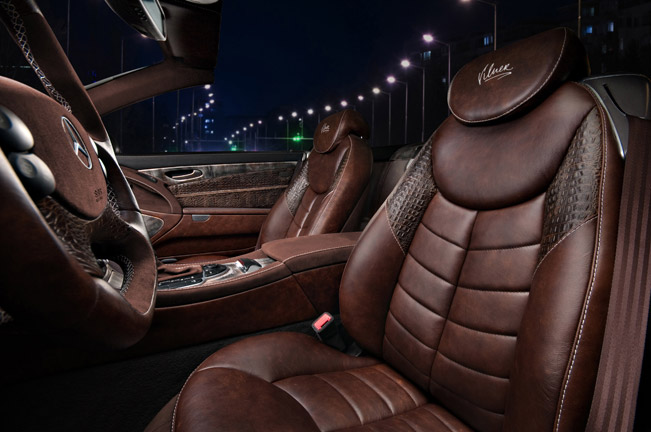 When it comes to interior, the Bulgarian luxury tuning specialists at Vilner are among those who always deliver the best. This time they have worked on the emblematic Mercedes-Benz SL model and made it even more exceptional then before.
Vilner reveals that this is one of their bravest projects. The reason lies in the fact that during the work they have worked with five different materials which were carefully chosen in one tonality. In addition, through this they have proved that with the utilization of several exotic materials and exotic leather in one project, the end result might not seem that flamboyant.
In general, the floor mats, the ceiling, the leather, the seat belts and the plastic elements in the original Mercedes-Benz are in grey and are combined with brown wooden applications.
In order to enhance the unique feeling that the car leaves in the occupants, Vilner decided to use in this project Nappa leather with antique effect, crocodile leather and brown Alcantara. They were sewed with a contrast stitching.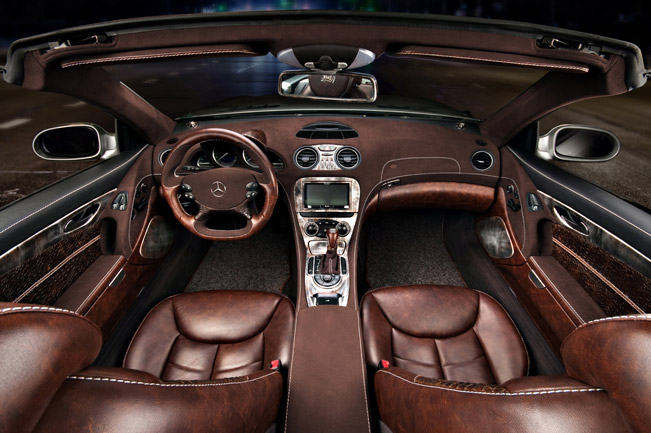 Furthermore, after the modification of the steering wheel, it now has more aggressive stance and it is more ergonomically viable. The ceiling on the other hand as well as the rearview mirror and all plastic elements on the seats and the thresholds are wrapped in Alcantara.
The floor mats and the carpet are changed with brown-grey ones. Something very impressive in this project is that all wooden applications, some of the plastic elements and the gearshift lever are hand-painted in order to give them a look of patinated steel.
What is even more, the audio system has been entirely replaced with DLS speakers and amplifiers. In addition, the interior was made noiseless which contributes towards better comfort and now even the slightest vibrations felt in the coupe are tamed. At last in the doors have been incorporated lasers that project Vilner's logo.