Mercedess G-Class is now worthy of Cinderella
How do you think a modern carriage would look like nowadays? Of course it have to be worthy of modern prices and princesses. Studio VILNER has the answer and it lies not in the fairy-tale of Charles Perault, but in the magnificent Mercedes G-Class. When you open its door you'll then plunge into the magical world of the VILNERs atelier.
What you'll see here is that he interior is entirely made-over and it is definitely perfectly suitable for royalties. First of all the coupe is made with high-quality leather. The bright interior caresses the senses with its relief parts, which can be seen as well in the doors and the roof of the car. The roof itself is separated by a broad black band made from alcantara. As already mentioned the whole interior of the automobile "wears" leather, even the rearview mirror and the plastic elements of the seatbelts! VILNER has done a stunningly great work and has considered in the design all the details! Even more: the small elements of the interior stand out majestically because of the used sleek chrome! The light from the ceilings of vanity mirrors goes out of the round holes of the black alcantara.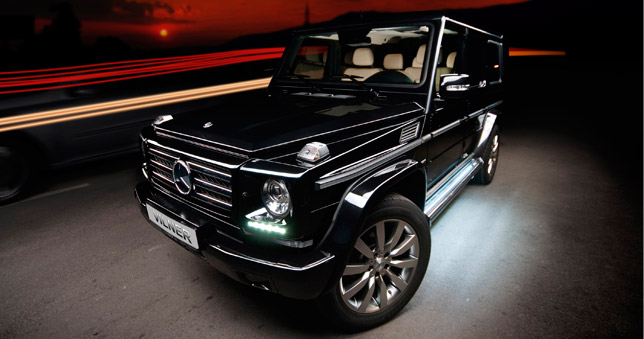 No one cares how long the ride from Kingdom A to Kingdom B will take, we are sure that the passengers in this luxury Mercedes G-Class will feel undeniably comfortably. In addition they will have the opportunity to pamper their senses with music, coming out from the "Ground Zero" audio system. All this will happen in the additionally insulated coupe for much greater comfort!
At last but not least, the way will be well lighted thank to the new LED lights, which are especially designed by VILNER for more beautiful and magical fairy tale! Well done tuners!
Source: Vilner