BMW M235i Coupe - Drift Mob [video]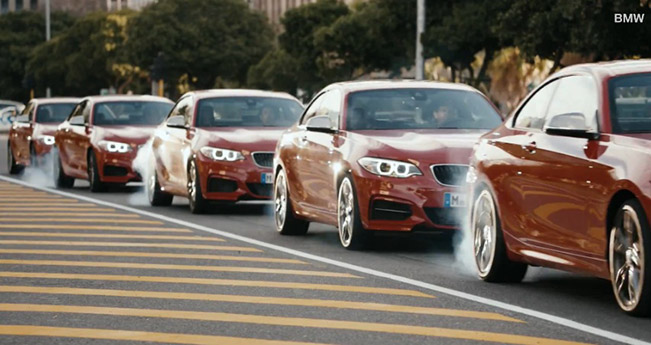 BMW has released a promo video with their "drift mob show" organized in Cape Town, South Africa. The epic show features several M235i Coupe cars driven by professional stuntmen. The synchronized drifting at a large roundabout in South Africa is really spectacular. The entire video is full of adrenaline and impressive scenes.
All fans of BMW expected to see the all-new M2, which is expected to hit the market sometime in the end of the next year. It will have the same engine, but tuned to 380HP (279 kW), stiffened suspension and a big brake system. It will also get different aerodynamics package and unique interior with a lot of carbon fiber elements and other expensive materials.
The 2014 BMW 2-Series M235i is powered by the well-known 3.0 liter TwinPower Turbo six-cylinder engine – 326HP (240 kW) and 450Nm (322 lb-ft) of torque. It is connected to an 8-speed automatic transmission sending the power to the rear wheels. 0-100 km/h in 4.8 seconds and a top speed of 250 km/h (155 mph) – electronically-limited.
Some of the stuntmen stars are Rhys Millen and Samuel Hübinette aka The Crazy Swede, who started working as a test driver for Volvo.
Enjoy!
Source: BMW