BMW Releases 2016 M235i Track Edition Limited to 12 Copies Only

2016 BMW M235i Track Edition received this beautiful photo-shoot in Rotterdam, the Netherlands, which you can view in our gallery below. The reason for it wasn't a shier enjoinment of the images, but the fact that BMW is actually introducing a special edition of only 12 copies to the Netherlands' automotive market. The limited edition series pictured in the gallery received additional treatment from the experts at Baan Velgen, who gave the M235i more stylishness.The main reason for the release of this limited BMW M235i Track Edition in the Netherlands only, is to simply boost the sales in the country. As the name shows, the two-door sports coupe is equipped with M Performance Parts, giving it more athletic and dynamic appearance.
SEE ALSO: BMW 2-Series M235i Track Edition - Price €83,000 
M235i Track Edition & M Performance Parts
As a matter of fact, the car got the complete M Performance Parts body kit. But what does it include? The answer: a lot of stylish components. At the front, there is a brand new splitter and lip spoiler as well as blacked out kidney grilles. The sides come adorned by new side skirts, while the tails gets a redesigned rear diffuser and M Performance stainless steel exhaust system. 19-inch alloy wheels come as a standard in these 12 limited editions.
Baan Velgen Treatment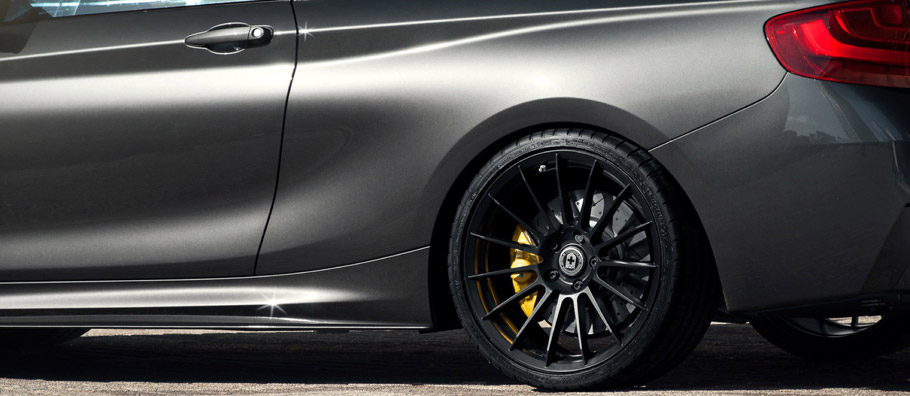 The special treatment by Baan Velgen is seen via the 19-inch Tarmac Black HRE FlowForm FF15 wheels. Obviously, the specialists did not enjoy the stock alloys, and decided to do something about it. Eventually, the new wheels make the BMW M235i Track Edition look captivatingly good.In addition, this particular BMW received a set of H&R lowering springs, which have not only improved its visual status, but also lowered its center of gravity thus reducing body roll and making the handling better. At last, Baan Velgen added window tint, which perfectly matches the dark-character of the BMW.
Interior
Although there are no pictures of the interior, BMW Holland says that the M235i Track Edition has received a steering wheel wrapped in Alcantara, leather upholstery for its sports seats as well as aggressive stainless steel pedals.
Drivetrain

Nothing has been changed in the engine, so this means that the BMW M235i Track Edition keeps its stock's output. Powered by the 3.0-liter TwinPower Turbo 6-cylinder engine, it is capable of producing 326 horsepower (240 kW) and 450 Nm (332 lb-ft) of maximum torque. The unit is connected to 8-speed Steptronic transmission, thus ensuring a 4.8 seconds for the acceleration sprint from 0 to 100 km/h and on the way to a Vmax of 250 km/h.