2014 Audi R8 Spyder V10 Goes Officially On Sale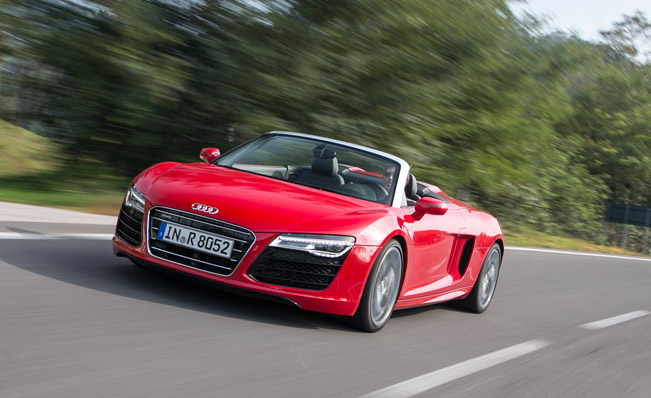 2014 Audi R8 Spyder V10 offers unprecedented performance and has outstanding design which makes it stand at the pinnacle of Audi performance vehicles. The new R8 Spyder is in fact more dynamic and powerful than ever and is now officially on sale.
The optimizations included in this car are numerous. For example here is featured a new seven-speed S tronic transmission which contributes for the 0-60 km/h sprint to be reduced with 0.3 seconds. In addition, this transmission also substantially enhances the comfort through smoother gear shifts and greater efficiency.
Another instance is the new full-LED headlamp design, which gives the R8 distinctive appearance. But to go further into details, the engine which propels this Audi can generate 550 horsepower (404 kW) and 540 Nm (398 lb.-ft.) of torque.
This means that the car effortlessly cover the acceleration time sprint form standstill to 100 km/h in just 3.3 seconds on its way to the top speed of 196 mph. In addition, the overall weight of the R8 Spyder is circa 130 lbs less than the R8 V10. The reason for this are the new ceramic brakes, carbon fiber side blades, front splitter, rear diffuser, and spoiler; a smaller fuel tank; manual Alcantara® seats and reduced sound insulation in the engine bay.
In terms of interior, the model is adorned with beautiful diamond-stitch leather seats. As an option, an additional enhancement of the interior can be chosen and we are speaking here about the flat-bottom multi-function steering wheel.
And al last, if you are a fan of the Iron Man Movies, you will be happy to see the Audi R8 in the part three of the series. Tony Stark, played by Robert Downey Jr., will once again be back in the R8 as his car of choice.
2014 Audi   R8 Pricing
R8 V8
R8 V10
R8 V10 Plus
Coupe
Manual $114,900
Manual $151,200
Manual $170,545
S tronic $124,000
S tronic $160,300
S tronic $179,645
Spyder
Manual $128,400
Manual $164,700
NA
S tronic $137,500
S tronic $173,800
Source: Audi