Audi R8 Spyder V10 is one step closer to your garage

Audi is taking first pre-orders for the R8 Spyder V10
Audi R8 Spyder V10 made its debut at the 2016 New York International Auto Show in March. Now it is time for the first wanna-be owners to make probably the most important step in their lives and purchase the model. The car is exceptional.
It is driven by the 5.2 FSI engine, which produces 540 hp (397 kW) and delivers 540 Newton meters (398.3 lb-ft) of torque, thus accelerating from 0 to 100 km/h (62.1 mph) in 3.6 seconds. The top speed is of 318 km/h (197.6 mph). And the benefit of the open-top experience the car offers is that the driver can enjoy the sound of the engine, when driving with the soft top folded back.
SEE ALSO: Audi R8 Spyder: The Star at the New York Auto Show
Another advantage of the R8 V10 Spyder is that it is based on the new Audi Space Frame in combination with the aluminum components and structurally-integrated carbon-fiber-reinforced plastic. This is important because it accounts for better performance and improved torsional rigidity by 50 percent. In addition, the new lightweight construction results in a curb weight of the supercar of just 1,720 kilograms (3,792.0 lb), whilst its dry weight comes in mere 1,612 kilograms (3,553.9 lb). Thanks to this, the car actually uses ten percent less fuel!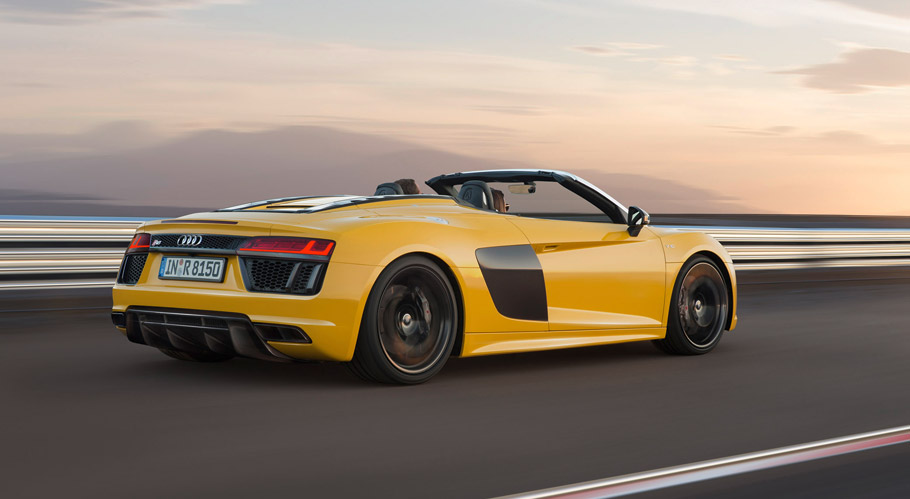 Speaking of the engine, we forgot to mention that it is connected to the seven-speed S tronic transmission, which transfers power to the newly developed quattro drive system. Depending on the driving situation, the entire power can be directed to either the front or rear wheels.
Of course, all functions are driver-oriented, allowing the driver to keep their hands firmly on the steering wheel and eyes focused on the road. If one asks about the important information, it is displayed on a 12.3-inch fully digital Audi virtual screen, showing everything in cool 3D graphics. In fact, the R8 Spyder is also smart-phone connected, being the first model to feature the Audi smartphone interface.
LEDs with newly developed laser technology are lightning up the way, especially for those who really want to get their booties inside the R8 V10 Spyder. The pre-sales of the hand-built (almost) Audi R8 Spyder V10 begin today in Europe with a starting price of €179,000.
Source: Audi