Audi R8 V10 Spyder Chrome
Audi has unveiled a special edition R8 V10 Spyder, which will be auctioned at at this year's White Tie and Tiara Ball. The car features stunning mirror-like chromed finish and brutal V10 engine.
"Sir Elton John's fundraising ball really is a golden ticket event that is as glamorous as it is hugely effective in fundraising terms," commented Jeremy Hicks, Director of Audi UK.
"We are delighted, and enormously proud, to support it for a ninth year with the donation of what is arguably our most fittingly glamorous model," he added.
Audi R8 V10 Spyder is powered by a 5.2 liter V10 with 525HP (386 kW) and 530N/m (393 lb-ft) of torque. 0 to 100 km/h takes 4.1 seconds and the top speed is 312 km/h (194 mph). The car features a fully-automatic lightweight fabric roof, Quattro all-wheel drive and manual gearbox. The base price is £117 710 OTR.
The White Tie & Tiara Ball, now in its 13th year, is the EJAF's foremost fundraising event, and has been supported by Audi with special auction lots for the past eight years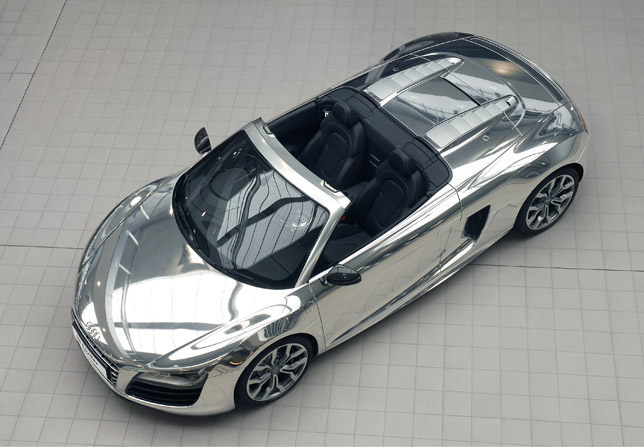 Source: Audi