2012 Carlsson Mercedes-Benz SLK
Carlsson have been making tuning packages for Mercedes-Benz models since 90's. Now they have prepared a styling program for the latest 2012 SLK. This car is probably the finest roadster in manufacturer's history. Still, Carlsson further personalised the stylish vehicle. What is more, they also offer performance packages for the new CGI engines.
The aerodynamics package includes a front spoiler and rear apron insert (for cars with the AMG sports package) - 620 Euro each. There are also new front spoiler lip RS - 549 Euro, optional in real carbon, while the grille inserts made from electropolished stainless steel - 449 Euro.
The stainless steel sports silencer with two stainless steel pipes left and right in the typical oval Carlsson shape is priced at 1298 Euro.
The performance packages are available for SLK 200 CGI boosted up to 224PS (165 kW) or 211PS (155 kW) - 1190 Euro; SLK 250 CGI with 239PS (176 kW), instead of factory's 204PS (150 kW) – 1690 Euro.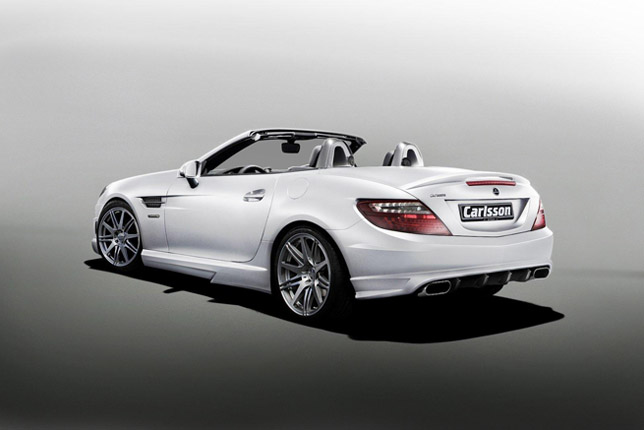 Carlsson 2012 SLK is lowered with up to 30 mm - 309 Euro, and for perfect stance, it stands on 18" to 20" exclusive alloy wheels – the set starts from 1930 Euro.
The interior boasts a choice of leathers that include Carlsson Nappa, Carlsson Nappa Exclusive and Carlsson Nappa Exclusive Heavy Weight. A basic package consisting of the upholstering of two seats, the headrests and the insides of the doors and are available from 3900 Euro including fitting. Carlsson also adds brushed-aluminum pedal pads with its own logos, as well as its own gear shifter. Accent trims come in "Alcantara appliques", carbon or fine wood inserts.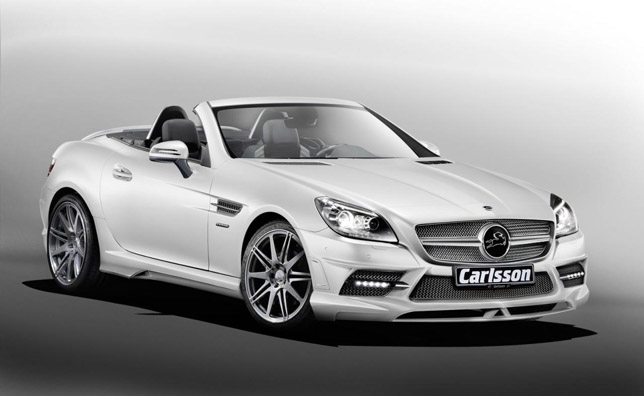 Source: Carlsson