Mercedes Benz SLK by Carlsson
Another Carlsson gem at the 2012 Geneva Motor Show – the Carlsson Mercedes-Benz SLK will showcase all there is to showcase in exclusive accessories. The interior has been adorned with some Nappa leather, the exterior with some aerodynamic bits and pieces along with some wheels and there's a performance upgrade for that extra punch.
Additional power comes from something called CB25 S. It's a package for the SLK engine. Alongside a C-Tronic additional control unit from Carlsson's Plug-and-Drive series, the kit also sees a new, larger intercooler. At the end of the day we have 176 kW (239 BHP) rushing out as apocalyptic thunder from the flow-optimized, stainless steel rear muffler.
Visually, the Carlsson SLK harbors an aerodynamic package similar to the one found in the AMG sports package. At the front there's a Carlsson bumper with an RS lip spoiler made from carbon. Grille inserts made from electro-polished stainless steel replace the plastic honeycomb grille found in the front skirt of the series model. At the back we also have a new skirt insert along with the diffuser and a trunk lip spoiler. Thanks to a suspension tweak, the SLK sits lower by 30 mm on a set of Carlsson light metal alloy wheels measuring 8.5 x 19 inches at the front axle and 9.5 x 19 inches on the rear.
Inside a hand-stitched Nappa leather festival opens up as you step in. It's called the Carlsson Signature Line and no matter what the temperature, the natural and exclusive material on the seats constantly assimilates to the temperature of your own body. In case you forget, Carlsson have scattered numerous reminders that this car is their child - Carlsson pedal overlays, Carlsson footrests, Carlsson door locking pins made from brushed aluminum, door sill panels and the glass wind deflector with the laser-printed Carlsson logo.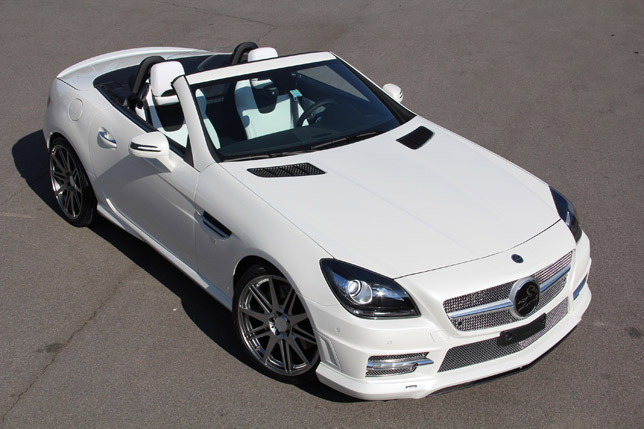 Source: Carlsson