2012 Mercedes-Benz SLK 250 CDI
Mercedes-Benz has announced the new 2012 SLK 250 CDI offering unique feelings at decent price and don't mean the car. The roadster combines good performance and low fuel consumption.
The new SLK 250 CDI is powered by a 2.2 liter turbo-diesel with 204PS (150 kW) and 500Nm (369 lb-ft), which are enough to catapult the car to 100 km/h in 6.7 seconds and another important discipline – 80 to 120 km/h is covered in 4.3 seconds. The top speed is 243 km/h. Great!
Still, the engine is not thirsty at all – 4.9 liters per 100 km on combined cycle and emissions as low as 128 g/km of CO2.
2012 SLK 250 CDI comes with 7G-TRONIC PLUS automatic transmission as standard.
The diesel SLK combines thoroughbred sports car performance with the fuel economy of a sub-compact. This guarantees great driving pleasure with great fuel efficiency.
It is available with a choice of three versions of the famous vario-roof. One of them is the panoramic vario-roof with MAGIC SKY CONTROL. This glass roof can be changed from dark to transparent at the touch of a button.
There are also three suspension versions available: a conventional steel suspension, a sports suspension with a stiffer spring and damper setup or a suspension with an electronically controlled, fully automatic damping system.
The latter is part of the Dynamic Handling package, which also includes the Direct-Steer system and the Torque Vectoring Brake developed by Mercedes-Benz for particularly agile and predictable handling characteristics.
Of course, all this style has a price and it is not low at all - €41 828. 2012 Mercedes-Benz SLK 250 CDI hits the market from September 13.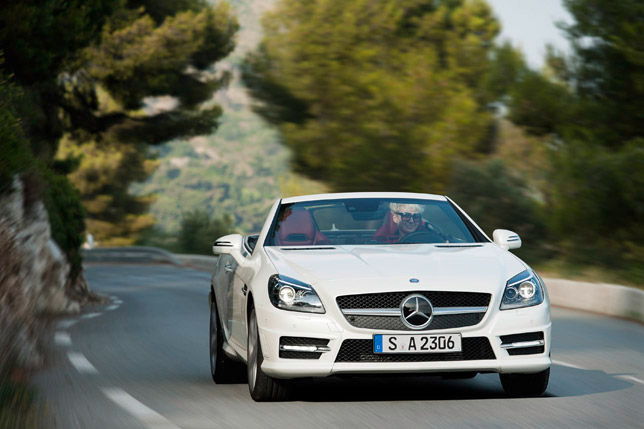 Source: Mercedes-Benz