Mitsubishi Concept XR-PHEV Evolution Vision Gran Turismo [VIDEO]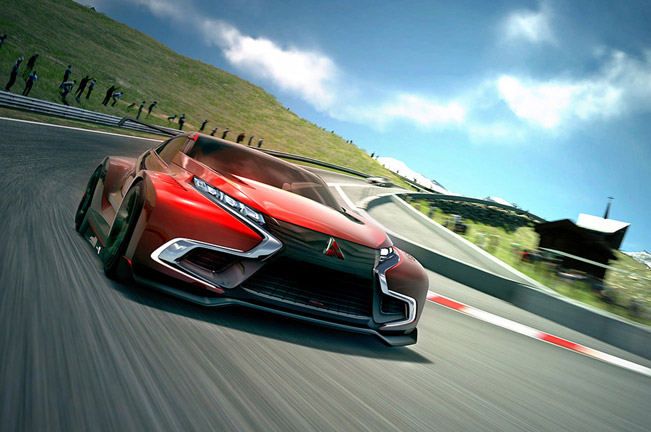 Mitsubishi Concept XR-PHEV Evolution Vision Gran Turismo is the third car which is to be featured in PlayStation3's Gran Turismo 6 game. The previous models that we have covered in our blog are the Volkswagen GTI Roadster Vision Gran Turismo and the BMW Vision Gran Turismo. The vehicle presented here is a hybrid concept that is built on Mitsubishi's racing knowledge gained through races like the Dakar Rally and World Rally Championships (WRC).
In the development of the exterior, the company has used as an inspiration the Mitsubishi Concept XR-PHEV. The latter has debuted at the 2013 Tokyo Motor Show. However, this virtual car adds iconic front grill and aggressive racing-related exterior styling, which Mitsublish promises to feature in its next vehicles.
In addition, the concept vehicle utilizes advanced development technology from the Plug-in Hybrid EV System. The power of the engine is transmitted through an eight speed dual clutch transmission (DCT). Its driving performance is controlled with the S-AWC vehicle dynamics control system that distributes the drive force to the 4 wheels.
The weight of the car has been maximized through the use of carbon fiber reinforced plastic (CFRP). This contributes to vehicle's superb agility. In addition, the downforce produced by the aerodynamic form of the front and rear diffusers delivers excellent cornering performance. The car runs on large diameter 20 inch aluminum wheels and has tough suspension system.
The project Vision Gran Turismo involves world's leading brands, which develop concept cars for Gran Turismo and its fans. Stay tuned, because more exciting models are to be revealed soon!
Video Source: YouTube
Source: Mitsubishi