Mitsubishi Concept XR-PHEV Crossover Debuts in L.A.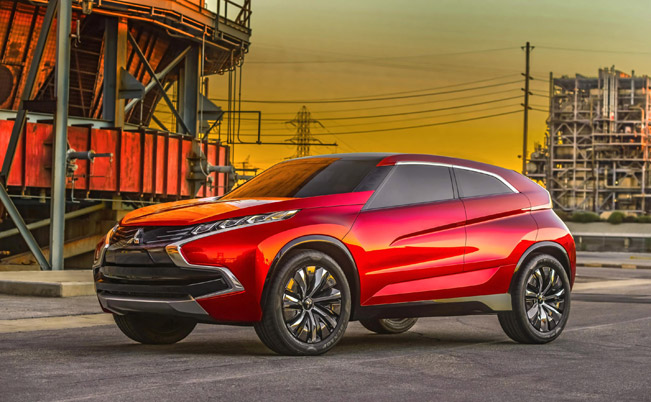 Mitsubishi Concept XR-PHEV Crossover was shoed at the L.A. Auto Show. This is a plug-in-hybrid electric vehicle, which has excellent performance and efficiency, and is also the real sibling version of the Mitsubishi Concept XR-PHEV Evolution Vision which we have seen in the newest Gran Turismo 6 PlayStation game. The SUV features the same prominent and bold styling as the virtual concept and has many of its styling characteristics.
The futuristic vehicle hints at the future design direction for company's production cars in North America. It blends the functionality of an SUV, the dramatic, eye-catching appeal and performance of a sports coupe and the drivetrain of a PHEV vehicle.
The muscular of the model is improved by the highly sculpted fenders that go around the oversized high-performance tires. For this also contributes the low and wide stance. Solar cell arrays are embedded within the roof. They help for a better charge of the auxiliary equipment battery. They also serve as an active aerodynamic device in the form of a variable angle spoiler on the trailing edge of the roof.
Inside, we see driver-centric interior. The proof of this is driver's seat which has been inverted in terms of color combinations in comparison to the other seats. They have been upholstered in black with red accents.
The modern information display pod allows the driver to easily and instantly notice the most important driving parameters. The speedometer, tachometer and other key performance information displays/readouts are placed along the top of the dashboard, at the base of the windshield, to ensure the driver keeps his or her eyes on the road ahead.
The driving force of this concept car is the front engine and front-wheel drive gasoline-powered 1.1-liter inline-3-cylinder turbocharged engine. It is rated at 134 horsepower (100 kW) and is paired with a lightweight, compact and high-efficiency electric motor which can contribute with 161 horsepower (121 kW) with a high-boost converter. A main drive lithium-ion battery pack with storage capacity of 14 kWh is located beneath the floor of the cabin.
Concept XR-PHEV has been equipped with "connected car" technology that makes use of information systems, thus providing additional information and driving-related logistics in a convenient way. In terms of safety, the vehicle has has been equipped with the following advanced safety systems: Pedestrian Collision Mitigating Auto-braking, Rearward Blind Spot Vehicle Warning, Unintentional Vehicle Move Off Control, Driver Monitor, Driving Safety Support System, Forward Collision Mitigation, Lane Departure Warning, Adaptive Cruise Control and Auto Hi-beam Headlights.
Mitsubishi Concept XR-PHEV Specifications:
Length x Width x Height
4,370 mm × 1,870 mm × 1,570 mm 172 in x 73.6 in x 61.8 in
Occupants
4
Hybrid Fuel Efficiency
>65 mpg (>28 km/liter)
Plug-in Cruising Range
>53 miles (>85 km)
Engine
Configuration
1.1-liter 3 cylinder direct injected turbocharged MIVEC, gasoline
Max Output
134 bhp (100 kW)
Electric Motor
120 kW (161 bhp)
Battery Capacity
14 kWh
Transmission
Transaxle
Drivetrain
FWD
Source: Mitsubishi Motors