Mercedes Viano Vision Diamond Concept in Beijing
Mercedes has exhibited the new Viano Vision Diamond Concept at the 2012 Beijing Motor Show.
The luxurious van comes with exterior enhancements as well as full interior rebuild.
The exterior boasts black radiator grille, chromed grille louvers, and two-tone exterior paint job. A fine, shimmering gold line painted by hand separates the two body colors of black and diamond white, and a painted diamond adorns the B-pillar. The two-tone effect is repeated in the rims of the 5-spoke wheels, and the brakes feature the words "Mercedes-Benz" in gold.
The interior boasts Maybach-inspired rear seats that have integrated footrests as well as heating, cooling and massage functions. The comfort is further enhanced by diamond embedded trim, silver champagne flutes and a refrigerator that holds 5 bottles.
The final touches are a huge 40" flat-screen display, which can be used for watching television, surfing the Internet and participating in video conferences. There is also a premium Bang & Olufsen audio system, W-LAN internet connectivity and a Magic Sky Control, which enables passengers to change the interior lighting conditions with just the push of a button. This changes the color of the windows, an effect that is made possible by a liquid in the window glass that reacts to differences in electric current.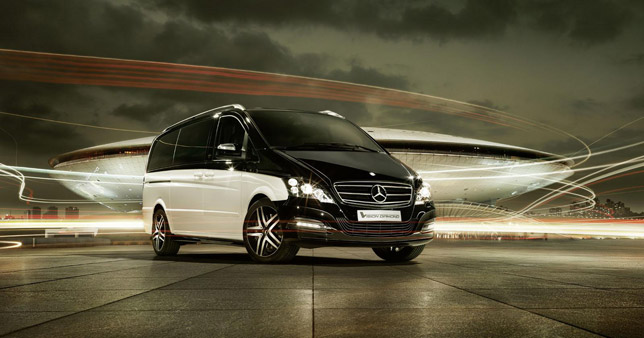 Source: Mercedes