Mercedes-Benz iPhone on wheels - A-Class interior [pictures]
Mercedes-Benz will fully integrate Apple iPhone into their vehicles. This means that Mercedes-Benz is now able to offer the Facebook generation its natural home on four wheels, in the form of the new A-Class. Along with Facebook, Twitter and so on, the "Digital DriveStyle App" developed by Daimler offers further services and content to suit the digital lifestyle and will be available to download free of charge from the Apple iTunes store. Its highlights include:
Personalised internet radio by AUPEO! Personal Radio, which offers radio stations that compile an individual program for listeners and recommend similar music by genre or artists based on personal taste.
The advanced navigation software from Garmin, with internet-based real-time traffic information, online POI searches and 3D map display, all of which work even in combination with the entry-level multimedia system Audio 20
A socially interactive experience involving "sharing", "posting" and the integration of music and other content from social networks including text-to-speech.
An intuitive 'Car Finder' which automatically stores the vehicle's location. Pedestrian navigation makes it completely easy to find your way back to the car.
Access to the voice-based intelligent companion Siri™.
The manufacturer has also released two official images of the interior of the new A-Class. The smallest Mercedes will have in its engine range five petrol and four diesel engines with power from 109PS (80 kW) to 204PS (155 kW). There will be also an AMG version of the new A-Class with a turbocharged 2.0 liter petrol delivering 355PS (261 kW). It is aimed to compete against the masterpiece – BMW 1-Series ///M.
Full iPhone integration is not only possible in conjunction with the COMAND Online multimedia system. All functions, including navigation, can also be used even with the entry-level Audio 20 system. Mercedes-Benz is thus making it possible for the A-Class's younger target group in particular to continue their digital lifestyle seamlessly inside the vehicle. Both the "Digital DriveStyle App" and the "Drive Kit Plus for the Apple iPhone" will be making their debut in the new A-Class. 2012 Mercedes-Benz A-Class will make its official debut at the Geneva Motor Show, next month.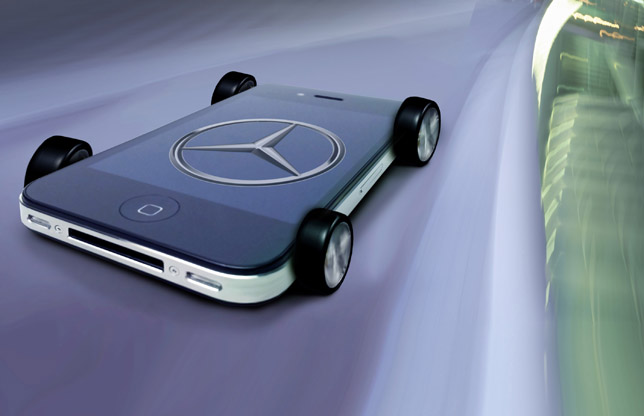 Source: Mercedes-Benz