Mercedes-Benz AMG 4.0 liter V8 Bi-Turbo Engine: Powerful and Efficient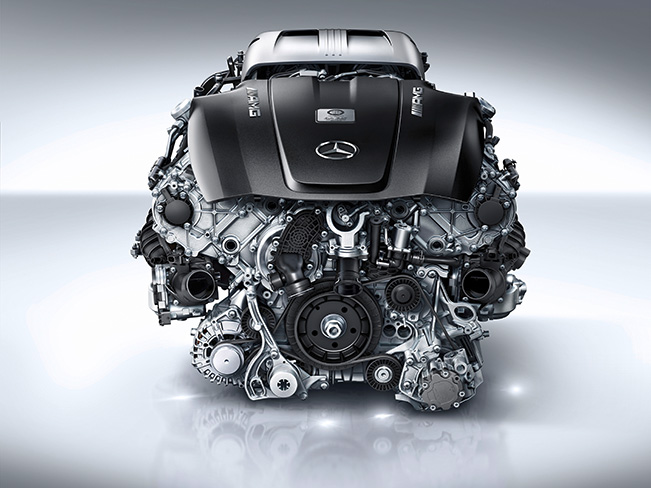 Mercedes-Benz has officially revealed full details about their all-new AMG engine. The M178 is a 4.0 liter bi-turbocharged V8 with 10.5 : 1 compression ratio. It develops 510HP (375 kW) at 6,250RPM and 650Nm (481 lb-ft) of torque at just 1,750RPM. The engine has a specific output of 128HP / liter and 163.2Nm / liter. It complies with EURO 6 regulations and weighs just 209 kg (461 lbs).
The all-new innovative eight-cylinder unit benefits from compact design, optimum response and low exhaust gas emissions. Dry sump lubrication allows the engine to be installed lower, which moves the centre of gravity closer to the road and forms the basis for high lateral acceleration. This is the lightest engine in its competitive segment.
The AMG 4.0-litre, V8 biturbo engine is being made in Affalterbach according to the "one man, one engine" principle. In the AMG engine shop highly qualified fitters assemble the high-performance engines by hand according to the strictest quality standards. The fitter's signature on the AMG engine plate attests to this exclusive type of engine production and indicates maximum quality and technology transfer from motorsport – from Formula 1 and the DTM to customer sport activities in the SLS AMG GT3.
"V8 engines are an integral part of the AMG philosophy and the brand's commitment to 'Driving Performance'. The V8 biturbo engine for our new GT is going to delight our customers!", commented Tobias Moers, Chairman of the Board of Management of Mercedes-AMG GmbH.
"The new AMG 4.0-litre V8 biturbo sees us presenting an exciting and powerful sports car engine which, thanks to a number of measures, also represents the next step in efficiency.", finished Christian Enderle, Head of Engine and Powertrain Development at Mercedes-AMG.
The new AMG M178 V8 engine at a glance:
| | |
| --- | --- |
| Cylinder arrangement | V8 |
| Cylinder angle | 90° |
| Valves per cylinder | 4 |
| Displacement | 3982 cc |
| Bore x stroke | 83.0 x 92.0 mm |
| Cylinder spacing | 90 mm |
| Compression ratio | 10.5 : 1 |
| Output | 510 hp at 6250 rpm |
| Output per litre | 128 hp/litre |
| Max. torque | 650 Nm at 1750 – 4750 rpm |
| Torque per litre | 163.2 Nm/litre |
| Maximum engine speed | 7200 rpm |
| Maximum charge pressure | 1.2 bar |
| Peak pressure | 130 bar |
| Engine weight (dry) | 209 kg |
| Emissions standard | Euro 6 |
Source: Mercedes-Benz