McLaren Reveals Bespoke 570S Coupé by MSO in France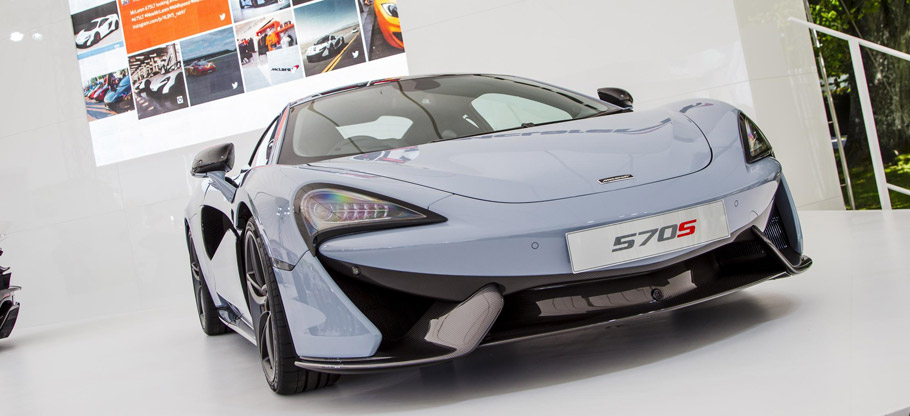 McLaren 570S Coupe by MSO in a bespoke skin will be revealed at an event in France, called Chantilly Arts & Elegance. This will happen during the weekend, where the British automotive luxury brand will have the opportunity of showcasing the extravagant 570S as well as the legendary McLaren F1 GTR by César.
McLaren 570S Coupé by MSO
This particular model has been specifically designed to showcase different individualization options of the 570S. The car features Ceramic Grey paintwork and a lot of details that need attention. For instance there are a lot of carbon fibre exterior options that highlight the lightweight carbon chassis at the heart of the car.
SEE ALSO: McLaren 570S Coupe is Making Dynamic Debut at Goodwood
Although the specifications of the engine haven't been changed, it is still impressive. Here is why: the efficient 3.8-litre twin turbo V8 unit generates nothing less than 570PS (562bhp). This force accelerates this McLaren car from start to 100 km/h (62mph) in just 3.2 seconds. And note that the top speed is 328 km/h (204mph).
McLaren F1 GTR by César
Next to the bespoke 570S Coupé, the company will also showcase the famous McLaren F1 GTR by César. Carrying the chassis #05R, this car is more than legendary, because it is one of the famous five examples of the McLaren F1 GTR that dominated the 24 Hours of Le Mans in 1995. What is more, it is adorned by one of the most iconic motorsport liveries, which was created (literally created) by the French sculptor and artist César Baldaccini.
And if you happen to be somewhere in the vicinity of the event, go see those beauties!
Source: McLaren