McLaren 570S Coupe M2B Edition is Formula 1 inspired anniversary car

Can you believe that it is 50 years since McLaren appeared for the first time at Formula 1 at the 1966 Monaco GP. And ever since then all models of the brand feature technology used in motorsport racing, in one way or another. Such example is the 570S Coupe, which is the first Sport Series road-legal model with its carbon fibre MonoCell II, carbon-ceramic brakes and Brake Steer technology all derived from the pinnacle of motorsport.
To celebrate these remarkable 50th years of success, the company has introduced the McLaren 570S Coupe M2B Edition, which is inspired on brand's first Formula 1 car - the M2B. The festive 570S Coupe features the same livery as the M2B: central green stripe and silver edging.
SEE ALSO: McLaren F1 #069 Concours Condition exclusively for sale by MSO
Like all other McLarens, this 570S has been hand-built at the McLaren Production Centre (MPC). The build process started with the carbon fibre MonoCell II, which is an innovative passenger cell that forms the core of the 570S and is strong and stiff. It also contributes for 50kg less weight when compare to the aluminium and steel-based rivals.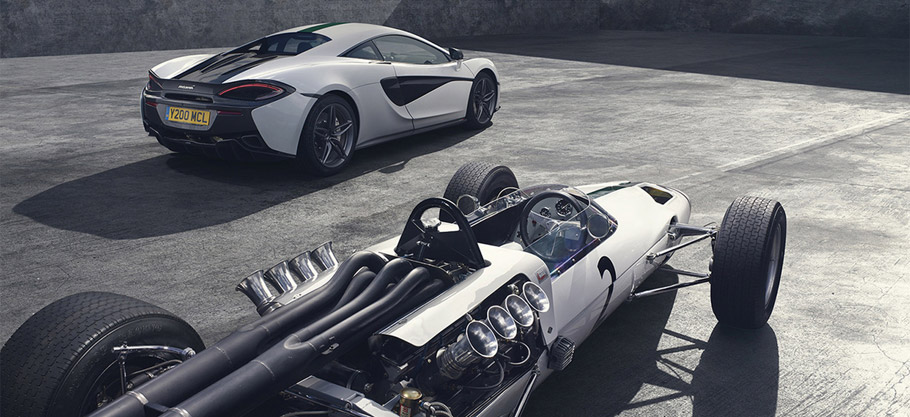 The M2B served as inspiration for another feature: the car-style double-wishbone suspension with adjustable dampers. Along with it, the 570S also gets Adaptive Dynamics Panel with three modes (Normal, Sport and Track), located in the centre of the luxurious hand-stitched leather interior.
McLaren 570S Coupe M2B Edition is driven by the 3.8-litre twin-turbocharged V8 unit connected to a Shift Gearbox with rocker-shift controls. The engine produces 570PS (562bhp), helping the 570S to accelerate from 0-100kph (0-62mph) in just 3.2 seconds. The top speed has been electronically limited to 328kph (204mph).
The stopping power of the model is ensured by the carbon-ceramic brakes, which have been also derived from Formula 1. The advantage here is that they resist fade even under very hard utilization. In addition, the 570S also uses Brake Steer technology.
All in all, this 570S is the perfect example for what McLaren has always stood for, since the day of M2B's debut in Monaco.
Source: McLaren