McLaren 570S Sprint is the supercar you need to see in action [w/video]
McLaren 570S Sprint makes global debut at the famous Hillclimb
Goodwood Festival of Speed is about to hail the static and dynamic world debut of McLaren 570S Sprint! The model is "track-only", so don't expect to see it in the dealership around the corner. On the contrary, you will find it thrilling the crowds on the famous Hill run. In addition, it will be on public display in the Supercar Paddock next to the McLaren P1 GTR, 650S Can-Am, 570S Coupe and the 675LT Coupe. Another example of the model can be spotted at McLaren's central location that is adjacent to Goodwood House.
In short, the 570S Sprint is intended for track-enthusiasts, who don't want the restrictions of any race series. What does this mean? Basically, the power and torque levels of the supercar have been upgraded making sure that there are maximum levels of driver engagement and the best levels of noise. If you are going to Goodwood, you will literally hear what we are talking about.
SEE ALSO: McLaren reveals details for the stunning MSO Carbon Series LT beast
Built around the carbon fibre MonoCell II chassis, this McLaren is powered by a mid-mounted 3.8-litre twin turbo V8 engine mated to a seven speed SSG transmission. Other unique parts of the equipment include enhanced cooling (delivered by front centre GT3-inspired high temp radiator), new design for the front splitter and floor assembly.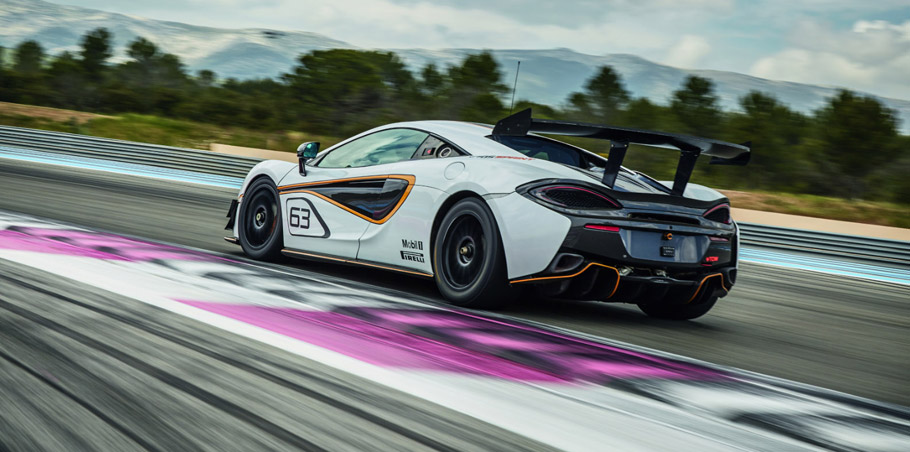 In terms of aerodynamics, 570S Sprint benefits from large carbon fibre fixed rear wing and front dive planes. This actually brings about the highest level of downforce compared to any of the model in the Sports Series. Supporting the track-inspired driving are the centre-locking lightweight cast magnesium wheels shod with Pirelli racing slicks.
On the inside (sadly we don't have any pictures to show), the supercar has been stripped out. As it should be. It includes driver-focused cabin, featuring FIA-approved rollcage, flat back driver and (optional) passenger seats, and fire extinguisher system.
If we caught your attention then you might want to see a preview of the 570S Sprint in action. The video below is intense! Also, take a look at the photos in the gallery below and turn on the full-screen mode. I've never seen an automotive photographer, who has done their job so well! Just wow!
McLaren 570S Sprint is priced at £148,000. First deliveries are expected next year.
Video Source: YouTube
Source: McLaren