Irmscher Opel Astra GTC Sport 45 Special Edition To Debut In Geneva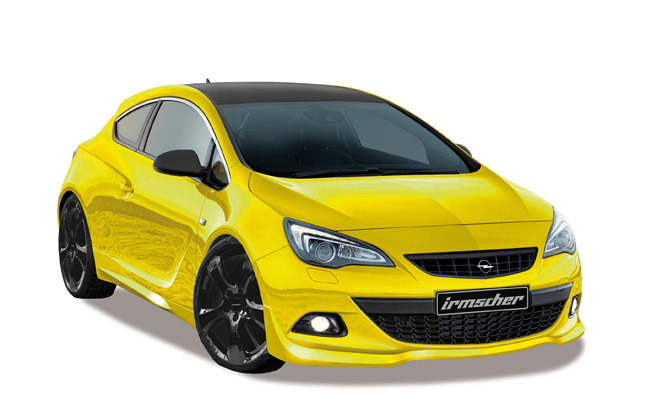 Irmscher Opel Astra GTC Sport 45 Special Edition is going to be unveiled at the 2013 Geneva Motor Show was just announced by the tuning company. Only 45 units of this special vehicle will be made in order to celebrate the 45th birthday of Irmscher in 2013.
The customization here was created with the aim to enhance the distinctively sporty design of the Opel Astra GTC. Under the hood of the latter works an improved Astra 1.6 Turbo engine, which develops 200 hp (147 kW).
With a lowering of 30 mm with progressive spring rate, in conjunction with 20-inch alloy wheels this Opel is full of power on the road and in addition in grabs the attention of the viewers immediately.
Balance in proportions is also an aim here and is an attribute which Irmscher clearly emphasizes with its design ideas and their development. Seen from the front, the radiator grille with Irmscher Carbon bar, the harmoniously integrated front spoiler lip and the track width of 20-inch wheels in Evo Star design perfectly contribute to a new more dramatical visual stance.
Observed from the rear, one can see that the sporty ambitions are also evident there. In fact, the striking roof spoiler, the diffuser insert and the left and right ellipsoidal tailpipes contribute to more agile and dynamic look. In addition, at the tail one can also notice the "Sport 45" signature.
On the other hand the interior of the car includes original Irmscher seats, door panels and center armrest, which were trimmed with fine leather and correspond to the exterior color with a yellow stitching. Moreover, the tuning company refined the interior further by adding door pins and pedals in aluminum. At last, the floor mats include Irmscher logo and the "Sport 45" signature.
Source: Irmscher