HOT: Vilner Mercedes-Benz SLS AMG Finally Revealed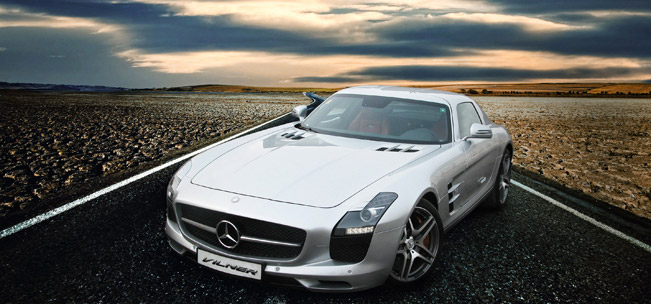 Do you remember that couple of days before Christmas the individualization tuning specialist from Vilner surprised us with a gift in the form of two teaser pictures revealing a glimpse of their latest endeavours? If you do than you will probably be happy to know that they have finally unveiled their work on the SLS AMG. And again, the readers of automobilesreview.com are the first to see it!
Vilner Mercedes-Benz SLS AMG is something everyone wants to have in their garage. And since the interior tuning professionals from Vilner have given it their magical touch, this means that the SLS seems even more attractive.
The exterior looks like it wears a make-up and it definitely has visual characteristics that make it more beautiful than ever. In details, the bumper below the front headlights is painted in black and in this way it makes the perfect contrast to the overall light-silver exterior of this Mercedes-Benz.
In addition, the same contrast is ensured by the central strip around the emblem, which in its back part is also colored in black. The same styling has been chosen for the middle part of the bumper. What is more – even all of the grills are black. Here the substance utilized for their re-coloring is Black Piano Varnish.
And to make the appearance of the SLS look even more aggressive, the designers have added eyebrows to the front headlights. The latter were specifically designed by Vilner and on their top there is a light relief, which is a continuation of the inner part of the headlights.
No matter how great the exterior looks, the inner part of the vehicle is where the true power of the leather interior specialist from Vilner lies. The splendid cabin of the SLS underwent a lot of work done with attention and precision to the details. Although the AMG designers have done a great job here, there were some elements that needed transformation.
Straight to the details: the coupe and the boot are both wrapped in red leather and Alcantara. They have also received a big embroidered AMG emblem which resembles the one on the metal plate under the front hood.
The steering-wheel is also modified and precisely wrapped with black leather. The airbag and the box of the dashboard are also customized in black Alcantara. The "pocket" between the two seats has a brand new design and it now looks more stylish.