2015 Honda Civic Type R Concept Previews the Next-Gen Hatch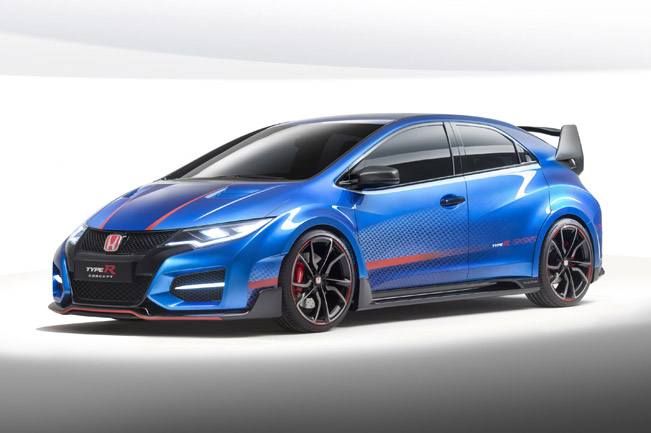 2015 Honda Civic Type R is debuting at the Paris Motor Show and we can't hide that we are eagerly anticipating it. Just a couple of days ahead of the official premiere, Honda has released additional further details of the iconic Type R. The Japanese company is promising that this version of the model will be the most extreme and high-performing Type R in the 22 year history of the red 'H' badge.
Straight to the details, the Civic Type R will be powered by a 2.0-litre i-VTEC engine. This powertrain comes from Honda's next-generation Earth Dreams Technology series. It generates more than 280 horsepower (205 kW), thus delivering unmatched performance when compared to the previous generations. The engine of this Civic model will be coupled with a six-speed manual transmission.
In addition, the model will be fully complying with strict Euro 6 emissions regulations. The new unit benefits from a turbocharger, which boosts low-end power delivery. With the addition of the VTEC technology, this Type R promises to deliver a sensational driving experience.
Another debut in the 2015 Type R will make the new '+R' button, which is located to the side of the steering wheel. The '+R' mode will deliver the most exhilarating driving experience. In this mode, the engine responsiveness is heightened, with torque-mapping changed to a more aggressive and performance-focused setting. Additionally, the steering becomes more responsive, and when it is combined with the new four-point Adaptive Damper System, it offers the ultimate handling experience.
The second instance for company's innovative approach is car's 'steer axis'. The new Type R's front suspension system includes this additional mechanical system, which features two supporting 'kingpins' that work to decrease torque steer. This in turn allows the driver to fully exploit the Type R's driveability.
Honda also revealed that the Type R will be equipped with new four-point Adaptive Damper System. It has been specifically developed for the new Type R. The system automatically adjusts front and rear suspension damping force stiffness in a split second, in order to suit driving conditions.
2015 Honda Civic Type R has been designed and engineered for European drivers, and will be arriving in dealerships in 2015.
Source: Honda