Geneva Motor Show: Spyker B6 Venator Concept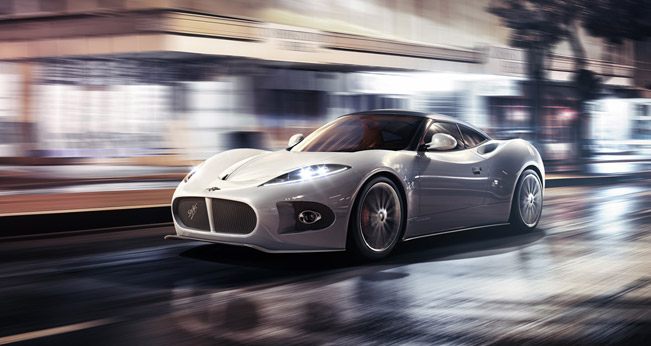 The Dutch sports car maker Spyker is debuting its B6 Venator Concept at the Geneva Motor Show. After the model has been teased two weeks ago it now comes to show an exceptional attitude at the Auto Show.
Spyker B6 Venator Concept is a compact, 2-door mid-engine sports car which delivers a rare combination of heritage, design, performance and exclusivity. The concept makes a defiantly contemporary statement whilst paying homage to its past. It includes extremely detailed design, bespoke materials and aviation-inspired elements.
The name "Venator" comes from the ancient language Latin and it means literally "Hunter". The name it carries undoubtedly conveys its high sports luxury presence and its bold beauty. But to go further into details and to reveal some of the highlights, the rear lights of this Concept are stunning 3D LED lights akin to the iris-type propelling nozzle of a jet engine from a modern fighter aircraft.
Secondly, the Radiator Grille, which is the trademark, references to Spyker models of the previous century. Here, the 1903 Spyker logo harkens back to an era when Spyker
built racers such as the amazing Spyker 60 HP.
Another exceptional element here is the aerodynamically shaped glass aircraft canopy which extends rearwards in order to minimize drag and to enhance performance. Next, the air intakes are aerodynamically sculpted and are integrated into the contemporary design of the car.
The new headlights are also instantly eye-catching because they are equipped with LED light rails, which add further to the aggressive stance of the model. What is more, the highly detailed design, bespoke materials and aviation-inspired elements are a core part Spyker's DNA.
The brake light has been sculpted into the Spyker B6 Venator's rear panel design to ensure smooth, flowing design lines. And the wheels - 19" Turbofan™ are in mirror polish finish. The contemporary profile and the overall design of the B6 pays homage to its past whilst making a defiantly contemporary statement with a lineage that can be traced back many years.
Source: Spyker