DMC Ferrari 458 Italia Elegante In The Swiss Alps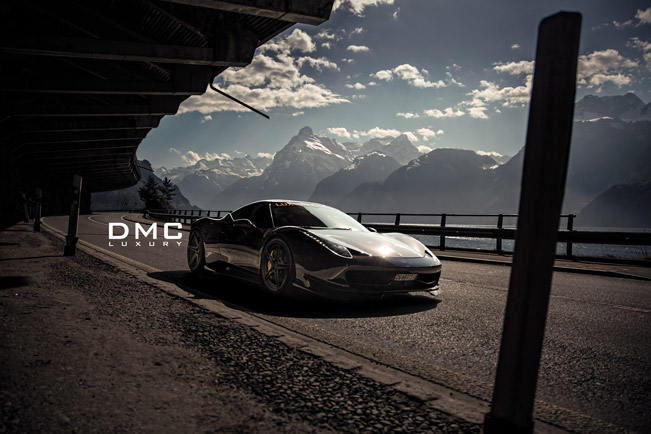 DMC Ferrari 458 Italia Elegante is a project we are familiar with. New around it is its new exceptional photographs made by the talented Igor Stasijevic. In fact, the photographer did a photoshoot with a blacked out version of the 458 Elegante, which was built by DMC's Swiss partner Luxury Custom.
On one of the photos, which were made in the Swiss Alps, you can also see the Mercedes-Benz McLaren tuned by Hamann Motorsport. In particular, this Ferrari has been equipped with an additional body kit, which makes it stand out from the croud.
To be more precise, the kit comprises of an aerodynamic elements that enhance even more the aggressive look of the Italian car. The aero-kit consists from front lips, side skirts and other elements, which additionally support the improved driving-feel.
Furthermore, what also has been done here are the tinted or blacked out front, side and rear windows. DMC 458 Elegante is powered by a naturally aspirated 4.5 liter V8 engine, which develops 570 horsepower (419 kW) at 9,000RPM and 540Nm (399 lb-ft) at 6,000RPM. We are actually wondering whether the car will deliver better acceleration time due to the aerodynamic and consequently weight enhancements. The standard accelerations time for the 458 Italia from 0 to 100 km/h is 3.4 seconds, and the top speed is 325 km/h (202 mph).
Photographer Credits: Igor Stasijevic
Source: DMC