DMC "Extrem" Mercedes-Benz G-Class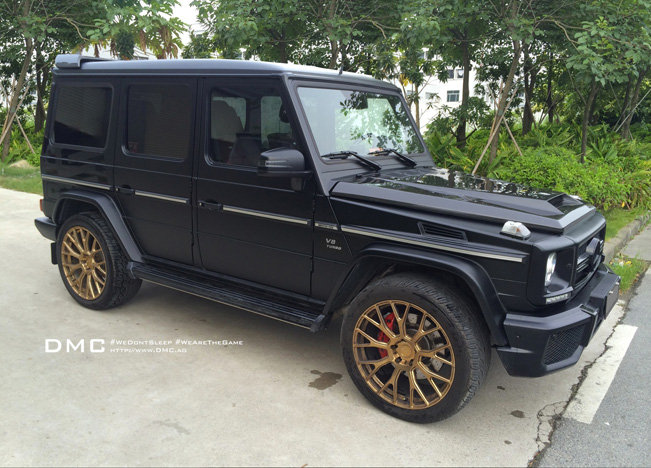 The Mercedes G-Class, formerly know as the G-Wagen is a traditional tough off-roader. It hasn't changed much since its release back in 1979. The company sets for a new beginning with the launch of Mercedes Benz G500/G65 AMG program.
A redesigned  vented front hood had to be added because of the new monstrous new engine with its doubled performance from 385 hp (285 kW) to the unbelievable 700 hp (515 kW). There are, for now 2 different engines. One is a 5.5 litre bi turbo petrol V.8 which can reach from 0 to 62 mp/h (100 km/h) in less than 5 seconds. And there is the second engine which is a 3.0 litre V.6 diesel which accelerates from 0 to 62 mp/h (100 km/h) in 9 seconds.
Round headlamps and turning indicators are placed right on top of the headlamps. The body panels appear strong. DMC comes with a variety of alloy wheels. Sizes range from 23" to 25". Dimensions are 305/30/23 but can be re-adjusted.
At the off-road is where the G-class exceeds any other. It has massive ground clearance and impressive approach and departure angles; there is also a low-range mode and three way lockable differential to help stabilize the car when driving on slippery surface.
The G-class is spacious and convenient for carrying a lot of luggage. The trunk is huge and it's square shape only adds practicality and even more space. Moreover, the backseats can be fold down which opens up additional space.
The cabin has been polished up so it can have efficient luxury to appeal to its new target markets: Asia and Middle East. It can be acquired with lots of modern equipment. All the safety features are included that can be found on all modern cars. Rear seat entertainment digital screens and radio. Three average size adults can fit on the rear sits with ease with comfortable headroom. Central locking engages once the vehicle accelerates. The interior can be tailor made with Carbon Fiber materials or with extremely rare Ostrich and Stingray leathers.
What I don't like about the tailgate, is that its pain to open in tight spaces with the spare wheel on the back it makes it really heavy. Getting inside the car is proving to be a challenge. You have to make a big leap to get yourself in and it does not get easier , the running board is sticking out which allows a lot of dirt and mud to be brought inside the car, not to mention the need of strong thumbs to operate the integrated handles. Considering how big the G-class is, the knee room does not allow a lot of space and stretching is really hard to do.
The car is not exactly responsive. This is because of the low gearing of the steering. It tricks you into thinking it is a sports car because of the way it accelerates. It's dangerous to make sudden emergency maneuver because then you get the feeling you are more like a tractor rather then a racing car. Another downfall is that on high degree corners, the G-class leans and becomes unstable.
Source: Mercedes-benz