Mercedes-Benz G-Class B63S 700 Widestar Dubai Police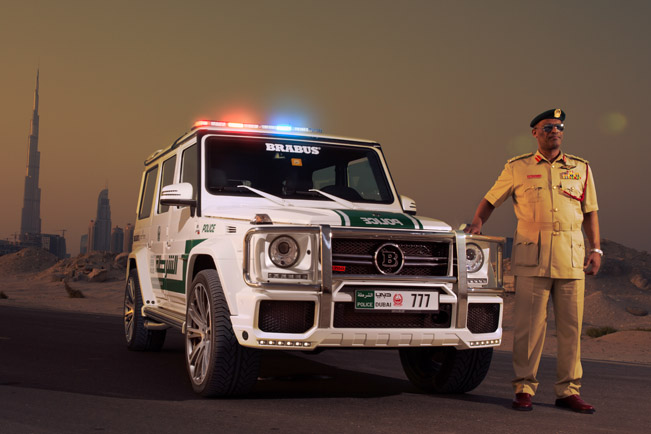 Brabus has introduced their latest project based on Mercedes-Benz G 63 AMG. The Dubai Police Edition will be exhibited in Dubai World Trade Center. The Dubai Police will also use the BRABUS upgraded G-Class from Mercedes-Benz to do duty on the streets of the city.
The legally and safely tuned vehicle will enable the Dubai police to provide some important public information on the streets of the city. As in Germany, where TUNE IT! SAFE! has established itself as an information platform for all things relating to tuning, sporty automobile accessories and general traffic safety, the initiative aims to raise awareness in Dubai, so that safety is not forgotten when it comes to automobile tuning.
The BRABUS B63S - 700 WIDESTAR package boosts the 5.5 liter V8 bi-turbo to 700HP (515 kW). 0-100 km/h in 4.9 seconds and a top speed of 240 km/h (149 mph).
The exterior features WIDESTAR full body kit and 23" BRABUS "Platinum Edition" monoblock forged wheels. The BRABUS Dynamic Ride Control suspension offers the perfect symbiosis of superior driving comfort and dynamic handling.
Source: Mercedes-Benz