Debut For Alfa Romeo 4C Spider Prototype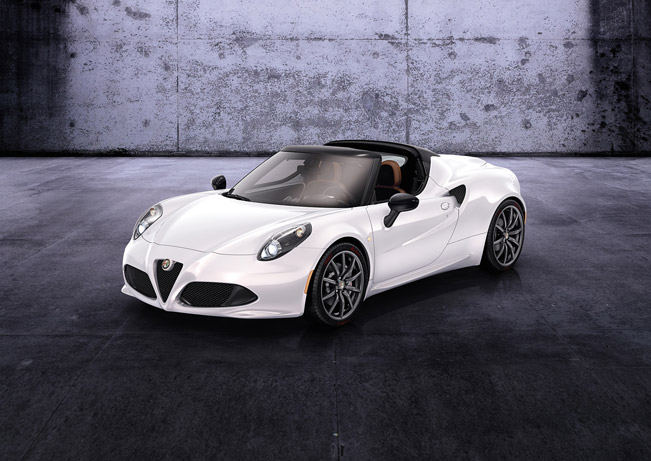 Another exclusive premiere in Geneva is making the Alfa Romeo 4C Spider Prototype. The vehicle previews a new production model scheduled to be introduced in early 2015. The car takes full advantage of the ultra-rigid construction typical for the 4C and also is built with an extensive use of carbon fiber.
This lightweight material can be found on the rollover bars, spoilers and windscreen frame. In addition to this, what also save weight are the canvas soft top and the replacement of the glass rear screen with a continuation of the SMC bodywork.
Moreover, carbon fibre dominates throughout the cabin. Precisely, the monocoque of the 4C Spider Prototype is constructed entirely from this material and is clearly visible in the centre console, door sills and rear bulkhead.
New in here is also the dual-stage central exhaust system with titanium and carbon tailpipes by Akrapovic. A key feature of this exhaust is an electrically-operated valve system that improves performance and enhances the exhaust note at the push of a wirelessly-linked button.
The car is driven by Alfa Romeo's four-cylinder, all-aluminium, 1750 Turbo Petrol engine. The unit is coupled with six-speed, dual dry-clutch Alfa TCT transmission, and drives the rear wheels. From 0 to 100 km/h (62 mph) the model accelerates for 4.5 seconds, while the top speed is in excess of 155 mph.
Carbon fibre clamshell headlights have been fitted to this vehicle. Also exclusive are the alloy wheels, milled from solid aluminium blocks and fitted with bespoke Pirelli tyres. Alfa Romeo 4C Spider Prototype is finished in three-layer gloss white, which additionally highlights car's beautifully sculpted shape and masterfully resolved surfaces.
Source: Alfa Romeo