2015 Alfa Romeo 4C Spider is Ready for the Market!

Like its Coupe brother, the 2015 Alfa Romeo 4C Spider is built with ultra-lightweight carbon fiber monocoque and minimum redundant structural additions. The body includes redesigned aluminum rollover structure, especially crafted carbon-fiber windscreen frame and engine components, built from high-strength steel. Overall, the car looks beautiful and confident. But let's see what else it has to offer.
Exterior
One of the first things we noticed is the redesigned front. It comes with covered projector-style xenon headlamps, that previously were only optional, while now they are included in the standard pack for the Spider. The back is also restyled: it comes with distinctive Spider buttresses and redesigned engine cover. Further additions are the heat extractors and the rear spoiler.
SEE ALSO: 2015 Alfa Romeo 4C: Motor Authority's Best Car To Buy 2015
Of course, the body is not restyled just to be beautiful. Alfa Romeo team paid attention to the aerodynamic characteristic of the Spider. Now the Spider comes with even better aerodynamic features, that include minimal wind and noise intrusion when the roof is stowed away.
Interior
The inside welcomes you with a redesigned Alpine head and Alfa Hi Fi audio system. And of course all the components are crafted to ensure maximum comfort and usability. And for customers, who want even more, the engineer team offers premium leather stitching and matching door cards as optional additions. Sweet.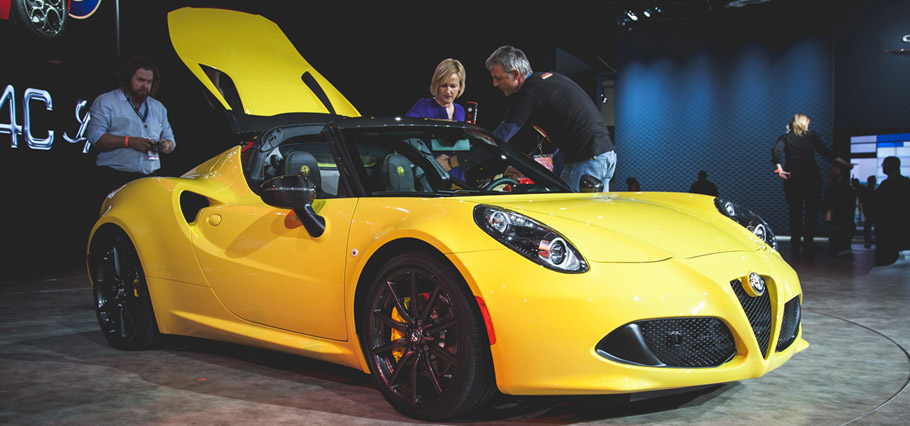 Drivetrain system
This beauty is powered by all-aluminum 1750 TBi 240 hp (176 kW) engine, that provides a total of 258lb-ft. The 0-100 km/h (62mph) run is over in less than 4.5 seconds and the top speed is 288 km/h (160 mph). And just like the Coupe version the Spider generates the same 1.1g of lateral acceleration and 1.25g of braking deceleration.
Packs and Trims
The standard pack for Alfa Romeo 4C Spider includes the upgraded audio system, luxury floor mats, glove compartment with leather cover, parking sensors and cruise control, carbon-fibre windscreen frame and xenon headlamps.
Prices start from £59,500
Source: Alfa Romeo