Catching a Glimpse of the Track-Focused McLaren P1 GTR Interior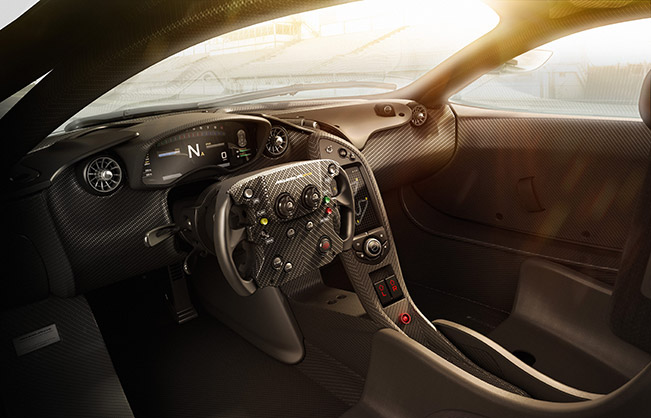 McLaren finally discloses how the new McLaren P1 GTR will look like interiorly. The revealed insides of this automotive monster really can make a person get goose bumps. It looks like something coming out of Marvel Universe! With its boosted cutting-edge power, dynamic look and excellent performance it is transformed into a machine which is set to become the world's best track weapon ever.
Did anyone say power? More power? How much more power? Well, precisely 83bhp more than the road-going P1 model, taking total output from the 3.8-litre twin-turbo V8 and electric motor to 986bhp.
There is a whole lot more about the McLaren P1 GTR than a simple power boost. I mean "simple" really. Perhaps you can notice from the photos that the new P1 GTR does not have a roll cage. That's because the car does not need such. In addition, from the official first pictures it becomes apparent that the interior is designed in such a manner that speaks for driver-focused style. The DTM-style seats are positioned directly to the chassis, which in return reduces weight by having no additional mounting brackets.
If it still doesn't look like a race car enough for you, check out the upgraded steering wheel! Its design is similar to the steering wheel of the MP4-23 F1 driven by the 2008 championship winner Lewis Hamilton. Intended to make all controls easily accessible, all of the key controls along with the mode switches are located in the center of the bespoke steering wheel. The DRS and IPAS are also retained there. It does look bloody amazing indeed!
Source: McLaren