Bugatti Veyron Grand Sport Vitesse - World Record [video]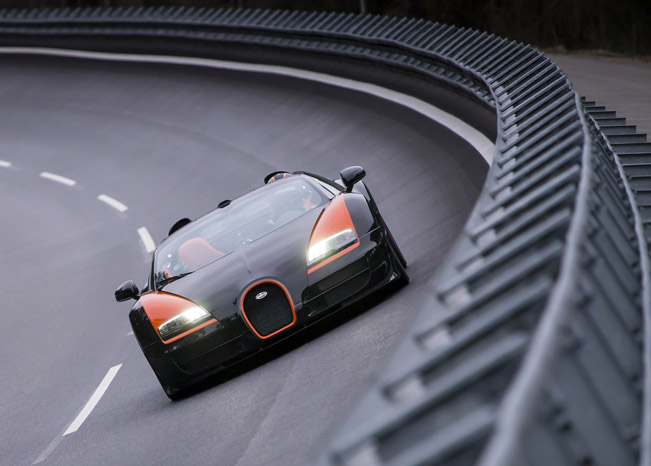 Bugatti has released an interesting video with the Veyron Grand Sport Vitesse World Record Car Edition doing the famous 408.84 km/h (254.04 mph).
This is the fastest convertible on the planet and the record was made on Volkswagen Group's Ehra-Lessien test track which has a 9 km (5.6 miles) long straight.
The Grand Sport Vitesse is powered by an 8.0 liter W16 quad-turbo engine with 1200HP (883 kW) and 1500Nm (1106 lb-ft) of torque. The engine is connected to a 7-speed DSG gearbox. It sends all that torque to an AWD system. 0-100 km/h in 2.6 seconds and 0-200 km/h in 7.1 seconds, 0-300 km/h in 16 seconds. ¼ mile is covered in 10.0 seconds flat and 1 mile in just 25.0 seconds.
Other interesting disciplines like 0-100-0 km/h take 5.9 seconds and 0-200-0 take 12.9 seconds. The interesting 0-300-0, which is brutal for the brakes take 23.9 seconds.
Only 8 units wil be built – each price from €1,990,000.
Source: Bugatti via Youtube